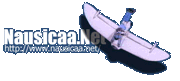 ---
|| Main | Mailing List | Films | Search | Ghiblink | Feedback ||


Other Films





Please choose from the following films:




The Adventures of Hols, Prince of the Sun


(Taiyou no Ouji Horusu no Daibouken)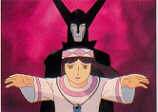 Hols is one of the classic masterpieces of anime in Japan. Released in theaters in 1968 by Toei Douga (Toei Animation Studio), it was epoch making in many ways.
This was the first feature film Isao Takahata ever directed. It was made by young, idealistic staff members, who wanted to make something totally different from anything Disney and previous "Toei Kid's stuff". It was made during the height of a huge labor dispute at Toei Douga, and the story and the production process reflected the situation.
The theme of the movie was "the unity among people", and the staff members tried to make Hols in a "democratic" way, meaning many ideas from all the staff members, including Miyazaki (who worked as a key animator on the project), were incorporated into the final film. In fact, Miyazaki's contribution was so great that they had to create a new job title, "Scene Design", just for him.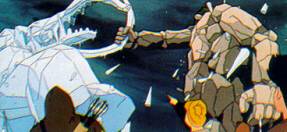 The film took more than three years to complete, way beyond the initial schedule of eight months. Although it was highly acclaimed critically and many organizations recommended it, Toei only ran it for 10 days! As a result, Hols was the lowest grossed anime in the Toei history. Takahata was demoted because of this, and was never again allowed to direct a movie at Toei Doga.
However, it was embraced enthusiastically by many young Japanese, such as university students (considering that anime, or manga movies as they were called, were considered "kid's stuff" even more than now, this was really something). The theme of the movie, "the importance of being united," really appealed to those who were in the student and union movements.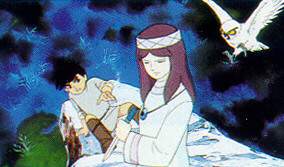 Hols is also the origin of Miyazaki anime in many ways. The beginning of the movie is very similar to Conan, the first TV series which Miyazaki directed. With his incredible strength and strong love towards the heroine, Hols is definitely the prototype of Conan, as well as Pazu from Laputa.
The heroine, Hilda, is the archetype of Miyazaki heroines. Hilda is probably one of the most complex heroines in Japanese animation history. She is very strong, though her strength was unfortunately shown primarily through her evil side. She carries both good and evil inside of her, and in Miyazaki's later works, she is reincarnated as pairs of heroines: Nausicaa and Kushana in Nausicaa, Lana and Monsley in Conan, and Clarisse and Fujiko in Cagliostro, to name a few.
After receiving many inquiries as to where the names in Hols came from, we asked Mr. Kanoh of the Takahata Miyazaki Research Lab, a well-respected fan organization in Japan. He in turn asked Yasuo Ohtsuka, who was the supervising animator of Hols. Kanoh returned with the following reply from Ohtsuka:

"Actually, there is no record on how Hols, Hilda, and Grinwald were named...I think that Hols was not named after Horus of Egypt, but was named after northern European names such as Holhel, Holhes, or Holt." [The spelling on these last three names may be off.]
Hols was retitled Little Norse Prince Valiant, dubbed into English, and shown on Turner Broadcasting System (TBS) in the United States in the early- to mid-1980s. An official English-subtitled version has screened at some film festivals but is not available on VHS/DVD.
Links of interest:
Hols page at Toei Douga (in Japanese, with images)

Ali Baba and the 40 Thieves


(Aribaba to 40-ppiki no Taizoku)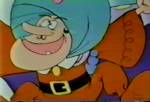 Ali Baba is a slapstick sequel to the classic story from 1001 Nights. Released in Japan in 1971, the story picks up 33 generations after the original Ali Baba tangled with the 40 thieves, and now the roles have reversed. Ali Baba's descendant is a selfish tyrant king who pits his troops against any who dare oppose him. Along comes a band of 40 unlikely characters to take up the challenge, accompanied by a genie with a severe anxiety disorder, and frenzied antics ensue.
No doubt the creators had a great time making Ali Baba, particularly the key animators, which included Hayao Miyazaki. Starting with the very first opening credits, the audience never has the chance to forget animation is constrained only by the limits of the animator's imagination.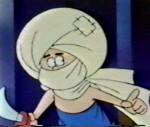 The climactic finale in particular is pure action-packed hilarity and is undoubtedly Miyazaki's animated choreography. While this unique film has much more cartoonish character designs and backgrounds than what we are used to from Miyazaki's pen, they are fitting for the film's delightful sense of humor.
Ali Baba was renamed Ali Baba's Revenge for the U.S. video release.
Links of interest:
Animal Treasure Island


(Doubutsu Takarajima)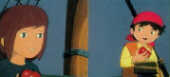 Miyazaki worked as a key animator on Doubutsu Takarajima, an animated feature film made by Toei Douga in 1971. Based on Stevenson's Treasure Island, all the characters appear as animals except Jim and Kathy (who is a typical Miyazaki heroine). It's a fun, slapstick adventure film.
Captain John Silver is a mean-looking pig, and he might be a distant ancestor of Porco.
Links of interest:
The Flying Ghost Ship


(Sora Tobu Yuureisen)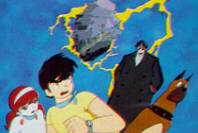 Miyazaki worked as a key animator on Ghost Ship, a 1969 animated feature film by Toei Douga. He proposed scenes in which tanks march and shoot in the middle of Tokyo, and then animated them. He wanted to show what would happen if a military power started using its force in the middle of a town. This motif was also used in "Lupin III: Farewell Beloved Lupin".

Links of interest:
Gulliver's Space Travels

(Garibaa no Uchuu Ryokou)

Miyazaki's first job as an animator was in-betweening on Wan Wan Chushingura (Watchdog Bow Wow) in 1963. However, the first movie in which Miyazaki showed his creative brilliance was Gulliver in 1965. He was still a lowly in-betweener, but he proposed changes in the script and animated the changed scenes. At the end of the story, Gulliver was supposed to rescue a robot princess of the Robot Country. Miyazaki changed it so that the shell of the princess cracked open, and a human princess appeared from within. This changed the whole meaning of the movie. Now, the robots were people trapped in robot bodies, and they regained their humanity with Gulliver's help.
Gulliver was released in the United States in the 1960s as Gulliver's Travels Beyond the Moon.
Links of interest:
Puss in Boots


(Nagagutsu wo Haita Neko)

Based on Charles Perrault's book, Puss was made in 1969 by Toei Douga. It is considered a masterpiece of comedy anime in Japan. Miyazaki did key animation for it, as well as providing numerous ideas for it. The last 20 minutes of it is considered to be the prototype of Cagliostro.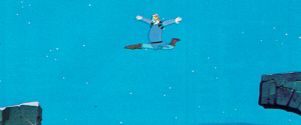 Since Puss was so popular, Toei Douga made two more sequels, but Miyazaki was not involved in them. The main character, Pero the cat, eventually became the mascot character of Toei Douga, and you can still see him on posters and other merchandise.
Puss received "The Most Entertaining Movie" award at the Moscow Movie Festival, Children's Movie Division.
Links of interest:
---

This page is brought to you by Team Ghiblink.