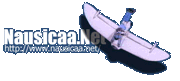 ---
|| Main | Mailing List | Films | Search | Ghiblink | Feedback ||

| | |
| --- | --- |
| | Non-Ghibli Works |
This page contains a listing of works commonly mistaken to be by Hayao Miyazaki, Isao Takahata, or Studio Ghibli. We hope this page will clear up some of the misinformation and myths floating around out there. If you have information on any titles we missed, please let us know.
Return to Film main page
Esteban / Lost Cities of Gold / Mysterious Cities of Gold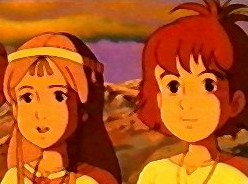 "The Lost Cities of Gold" was animated by Studio Pierrot in 1982, and the character designer was Toshiyasu OKADA. At that time, Miyazaki was working at Telecom, making "Sherlock Hound".
During production of the series the character Esteban was altered to "look less like a Miyazaki character" according to an interview in the "Art of" book for "The Lost Cities of Gold".
You can learn more about this series on Tyrone L. Cartwright's page.
Fushigi no Umi no Nadia
(The Secret of Blue Water / Nadia of the Mysterious Seas)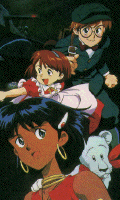 "Nadia" was originally a Miyazaki project. In the mid-1970's, Miyazaki was working on stories for Toho, an animation company, and one of the stories was to be titled "Around the World in 80 Days by Sea". The story was to follow two young orphans fleeing an evil power or government while being helped by some bumbling bad guys, and a mysterious Captain Nemo and the Nautilus. The project was eventually shelved, though Miyazaki incorporated several elements of that story into his NHK series "Conan, the Boy of the Future". Some of these same elements later reappeared in his 1986 film "Laputa: Castle in the Sky".
In the late 1980's, NHK and Toho approached Gainax about doing a television series and suggested this idea. You can learn more about this series on Marc Hairston's Nadia site.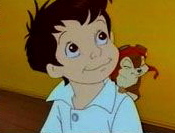 "Little Nemo" was an American/Japanese joint project, and Miyazaki and Takahata were involved in the pre-production stage during 1982 and 1983. However, due to creative differences with the American producers, both quit the project. It was finally made into a movie with different staff members and released in 1989 in Japan.
There is a rumor that two pilot films in the Japanese "Nemo" LD box set were done by Miyazaki and Takahata, but they were actually done by Yoshifumi KONDOU and Osamu DEZAKI, respectively. Roger Ebert has done a review of the US release.

Both Miyazaki and Takahata quit Toei Douga and moved to A Pro in 1971 in order to make a "Pippi Longstockings" TV series. They put a lot of effort into the project but the author of the book on which the series was based, Astrid Lindgren, did not give permission so it was never realized. After this disappointment, they made the movie "Panda Kopanda", and Mimiko, the little girl in the movie, looks a lot like Pippi, complete with red hair and freckles!

(An Imageboard of "Pippi")

Romio no Aoi Sora
(Romeo's Blue Skies)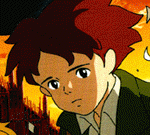 Nippon Animation created "Romeo's Blue Skies" as part of their World Masterpiece Theater series, so it's somewhat related to Miyazaki and Takahata. Yoshiharu SATOU, the character designer for this series, worked as the supervising animator of "My Neighbor Totoro", which explains the "Ghibli look" of the characters. There's also one other less-known connection: Satou was having a hard time designing Romeo, the main character of the series. Then he saw a boy in a picture taken in Switzerland by Miyazaki and Takahata when they were researching locations for "Heidi". "This is it!" he said, and he based Romeo on that boy. So, if not for Miyazaki and Takahata taking that picture, there might not be a "Romeo"!

Wakakusa Monogatari Nan to Jou-sensei
(Tale of the Young Grass: Nan and Miss Jo)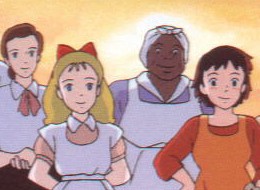 "Nan & Miss Jo" is one of Nippon Animation's World Masterpiece Theater series, so it's somewhat Miyazaki and Takahata related. It's based on Louisa May Alcott's "Little Men", the sequel to "Little Women". The Miyazaki-look is due to the character designer Yoshiharu SATOU, who was the supervising animator of Totoro and Only Yesterday. Satou also worked on "Romeo's Blue Skies".
You can learn more about this series on:
Although some bootleg VCDs put the Studio Ghibli logo on the package, "The Boy Who Saw the Wind" has nothing to do with Miyazaki or Studio Ghibli.
Review of the film from AnimeonDVD.com.
---

This page is brought to you by Team Ghiblink.