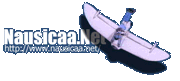 ---
|| Main | Mailing List | Films | Search | Ghiblink | Feedback ||

Warning! Nausicaa manga plot spoilers ahead!
Nausicaa Manga Comparison
Animage vs. Collected Volumes
Page 1
by Scott Ryan (vorplesword at yahoo.com)
A side-by-side visual survey between the Nausicaa manga serialized in Animage Magazine (where the story was first printed) and the later seven volume Japanese collection (from which the international translations were made) reveals that the serial was actually a work-in-progress.
Hopefully this overview of differences between these two editions will shed light on Miyazaki's thought process and work style. Of course we are seeing only one step in the process to produce the final result. Who knows how many other countless revisions he made in order to get each scene just right?
In some cases, the alteration is as subtle as adding shading to Nausicaa's back (below). This may have been to provide greater contrast with the background or to change the perceived light source.
(We don't know who made the decision to use brown ink for the collected publication instead of continuing with black ink, but the effect certainly creates a softer mood.)
Animage 1982/2, page 181, Panel 3
(original publication)
Volume 1, page 11 , Panel 3 (UP# 3)
(revision)
In other cases, pages are rearranged to present scenes in a different order. For instance, in Animage 1990/4, Nausicaa is found by the forest people followed by Yupa and Kushana's battle with the heedra. In Volume 5 of the collection, the sequence is reversed. (UP# 622-644)
In at least one case, five panels of narration to bring the reader up to speed in the serial were left out of the collected volume (see below).
Animage 1990/4 (Volume 142), page 17
(original publication)
Volume 5, page 115 (UP# 642)
(revision)
Animage 1990/4 (Volume 142), page 18
(original publication)
NOTE:

is used to indicate a page "cut apart" to make comparison easier in cases where panels were added or subtracted in Miyazaki's revision process. Sections above and below this icon are actually contiguous.
Going the other direction, additional panels were used to split one of the serials cleanly between two volumes.
Animage 1983/5, page 188
(original publication)
Last page of Volume 2 (UP# 256)
(revision)
Other times, Miyazaki added entirely new pages to the collected volume. For example, just after Nausicaa's encounter with "the Nothingness," he altered the pacing of the story by adding the page of Nausicaa's reflective inner monolog (Volume 5 pg. 143) (UP# 670), which led her to steel her resolve and journey with the ohmu to the convergence of the Daikaisho.
Another added page caused a different effect --heightening the tension rather than refocusing it. In the original Animage issue (1984/12 pps. 214-215), Nausicaa's injured horseclaw, sprawled on the ground, jumps back to his feet and bounds away. On the additional page in the collected volume (Volume 3, pg. 148 (UP# 3)), the horseclaw smashes a Dorok soldier with its foot. Anyone who had read only the Animage issues would have missed that startling moment.
---

This page is brought to you by Team Ghiblink.