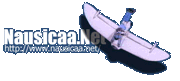 ---
|| Main | Mailing List | Films | Search | Ghiblink | Feedback ||




Hauru no Ugoku Shiro
(Howl's Moving Castle)
Studio Ghibli Diary Translation (Page 14)
Translator's notes in yellow.
3/16/04 (Tues.)
From the beginning of the week, key animation output has been good. With this pace, the production team hopes to meet its goals this week, and Kamimura has been busily making the rounds to the key animators.
As for the accident mentioned yesterday, everything has turned out fine today. However, according to schedule (?), tomorrow something...
3/17/04 (Weds.)
This week's key animation output is in a so-so state. If the production team were to say what it wanted, we would say, "No matter what, we'd like to pass the 200-cuts-remaining mark this week."
Since a strong wind was blowing today, we were not able to open the windows in the animation or production rooms for the whole day on account of dust. It was hot all day.
3/18/04 (Thurs.)
Just a little more, and we will have readied 1000 cuts for finishing. However, these last few days, animation direction output has been... After all, working without a break causes fatigue. But from here on stand fast, just one more stretch, work hard. (Sorry, it's easy when all you have to do is say it.)
With the recent sudden temperature changes, some people have not been feeling well. Certainly, when the temperature difference from the day before is nearly 10 degrees [18 F deg.], that's not unreasonable. (Or perhaps it's hay fever.)
3/19/04 (Fri.)
Whew. Finally 1000 cuts have gone into finishing, and furthermore, there are now fewer than 200 cuts of key animation left. We're a little behind schedule, but still, the end is in sight.
I've written this any number of times, but this is about mounting cells with the "harmony" treatment [not quite clear on this, but from what I was able to glean from looking at some examples at the Ghibli Museum, this involves painting on the reverse side of a clear sheet to produce a certain effect . . . please let me know if anyone knows more about this] on the machine. There were two cuts this morning with "harmony" treatments. A total of 18 sheets. However, to be safe, for each sheet of in-between animation, we put two sheets on the machine. That is to say, 36 sheets. Because of that, two people put their sheets for the two cuts on in turn, but they finally did it. The machine broke down partway through, the cels melted, and the in-between animation was stained. They went right away to apologize to the in-between animators and inspectors, and were told, "That's all right," but the production team needs to be a little more careful with its work from now on.
3/22/04 (Mon.)
Last week, we greatly exceeded our target output of key animation. If we can keep going at this rate, the future will be bright.
The yearly cherry blossom viewing picnic. But with this weather and these temperatures, flower viewing is thoroughly impossible. There was nothing to be done, and we ate inside. Well, nobody can tell what it will be like until the day arrives.
3/23/04 (Tues.)
Animation direction passed the 300-cuts-remaining mark. Still, the schedule is tight. We hope to increase our pace.
3/24/04 (Weds.)
Repairs were completed on the car which we sent out to be repaired because of the accident, and it came back. With that, the Ghibli parking lot has returned to its usual appearance. There's still time left, but we will soon become truly busy. Looking at the arrayed cars, one of the producers whispers, "Please, don't go anywhere for a while."
The Tokyo International Animation Fair starts tomorrow at Big Sight [Tokyo International Exhibition Center], so we loaded up cars with materials for our booth and set off for Big Sight.
---

This page is brought to you by Team Ghiblink.