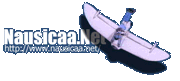 ---
|| Main | Mailing List | Films | Search | Ghiblink | Feedback ||




Hauru no Ugoku Shiro
(Howl's Moving Castle)
Studio Ghibli Diary Translation (Page 15)
Translator's notes in yellow.
3/25/04 (Thurs.)
This morning we did a little redecoration of our offices. There was nothing in the production or animation areas; it was only a little change. We had to set up desks, and Watanabe, Saitoh, and Itoh from Production pulled out desks from storage, but this morning, several errands came up, and Watanabe-san ended up alone. Even though it would have been fine for him to wait until everyone had returned, he carried the desks in by himself and strained his back. All afternoon, you could see him walking here and there around the studio in an ominous pose, trying to keep his balance. Looks like he hasn't gotten enough exercise. Please, everybody, let's do some light exercise every day, even if only a little.
The Animation Fair started today. Since today and tomorrow are business days, the staff of the merchandising division and the international business office also went to Big Sight. The number of foreigners attending this year was striking.
3/26/04 (Fri.)
Not long now until the big finale for the key animators. The animators we had come from outside to help are finishing too, and desks have started to clear off one by one.
The background artists are rushing ferociously. Fewer than 200 cuts remaining.
3/27/04 (Sat.)
The Big Sight Animation Fair continued today. General admission started today, so families came in crowds. Allegro's two-meter version of Howl's castle was especially popular. Photography is supposed to be forbidden at the Anime Fair, but there was a storm of commemorative photos being taken. Well, it's not as if we are going to run out, so what's the harm?
3/28/04 (Sun.)
Last day of the Animation Fair. There were great crowds of people today too, and even the passageways were packed. It ended without incident at 4:30 p.m., and we set about striking our exhibit. By eight, the Ghibli booth and nearly all the other booths had been dismantled. That was fast!
3/29/04 (Mon.)
Today editing began on reel four. However, animation direction wasn't finished until this morning. The animation directors and Itoh from Production stayed up all night. Because of that, editing could start this morning. Thanks for your hard work.
3/30/02 (Tues.)
The new interns start the day after tomorrow. We have to prepare material for their training. When we checked, we discovered that there were still two or three things missing, and hurried to purchase or order them.
In-between work has been a little slow lately, but started to get moving. The Production team is desperate to get the last few remaining parts finished.
3/31/04 (Weds.)
No matter how much science advances, there is one thing human beings will never be able to do. That is, to stop time. Ah, March is over! Editing was completed up to reel four without any problems, but the rest... Dubbing is scheduled to begin next month. Scheduling is the only thing going smoothly.
4/1/04 (Thurs.)
April begins today. There are new employees at Ghibli. Four animators, two finishers, and one background artist, for a total of seven. There was a ceremony for the new arrivals at noon, and they were introduced to the staff. They will be interns all year, but hopefully they will work hard so that they can become regular staff.
From now on, there will be a countdown chart on the schedule. The number of cuts remaining will be written on it every day. May that number soon be zero.
---

This page is brought to you by Team Ghiblink.