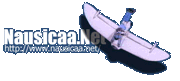 ---
|| Main | Mailing List | Films | Search | Ghiblink | Feedback ||




Hauru no Ugoku Shiro
(Howl's Moving Castle)
Studio Ghibli Diary Translation (Page 13)
Translator's notes in yellow.
3/9/04 (Tues.)
We passed it, we passed it, we passed it. Finally, animation direction output passed 100,000 sheets. At last, a year and a month into the production of Howl's Moving Castle, we reached the plateau. However, since the situation with the amount of material ready for the in-between animators hasn't improved, we still aren't at ease. There are still XXXXX cuts to go, so please work hard, animation directors.
3/10/04 (Weds.)
Reel three editing was completed without incident. Except for the first day's cut search, there were no major problems. In two weeks, editing for reel four begins. Time is tight.
With the expected (?) slump in in-between animation output, the in-between animation inspectors ran out of material. Until more in-between animation arrives, they will help with the in-between animation work. This is a bad time for in-between animation output to have a slump.
3/11/04 (Thurs.)
Falling behind animation direction these last few days, material ready for in-between animation finally passed 100,000 sheets. Since the end of the year, preparation of this material has stuck close to animation direction output. There has been almost no time gap. This is ideal for the production team, but if timing slips just a little...
Yesterday's slump in in-between animation continued. However, today was happily irregular, and internal and external in-between animation output did improve a little.
3/12/04 (Fri.)
The regular rush check. For reference, we included the title cut and the main titles. There are still plenty of cuts remaining, but still, there was momentary feeling that we were approaching the end. We are roughly two-thirds of the way through rush checks, and there are only a few more months to go.
3/13/04 (Sat.)
With the weekend rush, we thought the key animators would reach their goal, but unfortunately, they were one cut short. Next week...
Actually, there was a traffic accident on Thursday, but then there was another accident today! A chain reaction of accidents? Since we're going to get busier and busier from here on, we told everyone to be careful when driving. We want to stay at "low tension" and avoid the situation of having cars in repair for several hours.
At the Tokyo Museum of Modern Art, where the "Ball-Joint Dolls Exhibition" was being held, there was an interview event with Mamoru Oshii and the dancer Setsuko Yamada. Because of the influence of Innocence, which premiered last weekend, an unexpected flood of over two thousand people came to see the doll exhibition itself, so the event was a great success. [for more information (in Japanese) and photos of the exhibition (now over) see http://www.museum.or.jp/announce/20040207/ and http://www.ntv.co.jp/event/kyutai/gallery/index.html]
3/15/04 (Mon.)
I wrote last weekend about accidents, but this morning there was another call about an accident. This time, it wasn't a car, but a bicycle. Someone commuting to the studio was hit by a bicycle which had run through a stop sign. Somehow this person was hit on the jaw, showed symptoms of light head trauma, and was taken to the hospital. It turned out to be nothing serious, and he returned home safely today. Everyone, be sure not to ignore stop signs just because you are on a bicycle. One accident every other day. Perhaps we should have an exorcism ritual...
---

This page is brought to you by Team Ghiblink.