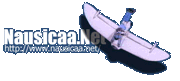 ---
|| Main | Mailing List | Films | Search | Ghiblink | Feedback ||


Gedo Senki
(Tales from Earthsea)
Frequently Asked Questions (FAQ)
General Questions answered on this page:
Q: When will the film be released in my country?
Annouced dates:
Japan - July 29, 2006
South Korea - August 10, 2006
France - April 4, 2007
Australia - April 15, 2007
Italy - April 20, 2007
Poland - May 18, 2007
Finland - September 28, 2007
At a press conference held after the film's production it was reported that the film would be released in about 50 counties.
The US release won't happen before 2009 due to rights conflicts with the live-action version that aired on the SciFi Channel.
Goro Miyazaki (born in 1967) is the eldest son of Hayao Miyazaki. After graduating from Shinshu University with a degree in Forestry Science he worked in urban landscaping for eight years before being invited by Toshio Suzuki to help setup the Studio Ghibli Museum. He served as the museum's director from 2001 to 2005.
In 2004 he received the Minister of Education's Art Encouragement Prize for New Artists for his work in designing and running the museum.
Q: Why isn't the film directed by Hayao Miyazaki?
Hayao was busy with Howl's Moving Castle when a small team (including Goro) formed by producer Toshio Suzuki began work in October of 2003. Although lacking any animation production experience, Goro led the team and drew the storyboards. Hideaki Anno (Evangelion) and Yasuo Ootsuka (head animator of the Lupin series) were greatly impressed by Goro's drawings.
Suzuki felt confident appointing Goro as director after hearing from Anno and Ootsuka.
Q: How were the rights to the Earthsea series obtained?
Le Guin expressed interest in granting the rights after viewing some of Miyazaki's films. Her statement of, "If this book is to be made into a film, it should be done by Hayao Miyazaki" were communicated to Stuido Ghibli by Shimizu Masako, Japanese translator of the Earthsea series of books.
Attempts to negotiate the rights in the early 80s were rebuffed by Le Guin as she wasn't familiar with Miyazaki and anime:
Twenty or so years ago, Mr Hayao Miyazaki wrote me expressing interest in making an animated film based on the (then only three) books of Earthsea. I did not know his work. I knew only Disney-type animation, and disliked it. I said no.
Suzuki remarked that had the rights been secured "Nausicaa might not have been born".
Q: How was Le Guin convinced to allow Goro to direct?
The elder Miyazaki and Suzuki traveled to Le Guin's home in Oregon to discuss the change in-person.
Q: How was Hayao convinced to allow Goro to direct?
Suzuki showed him Goro's drawing used for the first poster.
Q: How is the relationship between Hayao and Goro?
Chilly during the production of the film, Hayao had no invovement.
From a June 2006 interview with Goro in Monthly Cyzo (ISBN: 4910041110667):
Q:I heard that your father Mr. Hayao was strongly against this production of the movie. Have you spoken with Mr. Hayao recently?
A: I haven't spoken to him at all[1]. In about August of last year, before actual production started, Producer Suzuki told me at an internal Ghibli meeting to say a few words to mark the beginning of production on "Ged", so I said "I will do my best" and at the same time, "When this is over, I want to go back to the Ghibli Museum". I said this to put everybody at ease. When it reached my father's ears, he called me in and said "Are you that half-hearted! Don't build yourself an escape route from the start!". We had a shouting argument, and that was the last time we talked to each other. When we bump into each other at work, whoever notices first just silently gets out of the way. (laughs)
[1]: This could also be "We are not talking at all".
Entries 39, 40, and 41 in Goro's blog give more insight into their relationship.
Hayao made a surprise appearance at the film's preview screening and passed the message, "It was an honest way of making, and good."
Q: What book is the film based upon?
The film will be mainly based on the volume 3 (The Farthest Shore) of the series. The English title is "Tales from Earthsea," so the film will probably mix several episodes from various volumes.
Q: How long did the film take to animate?
Production began on 6 September 2005 and finished on 23 May 2006, a total of 8 months and 17 days.
06 Sep 2005: animation production begins
20 Jan 2006: 149 cuts (12%
)
27 Jan: 180 cuts (15%)
03 Feb: 230 cuts (19%)
17 Feb: 326 cuts (26%)
03 Mar: 422 cuts (34%)
10 Mar: 481 cuts (39%)
17 Mar: 517 cuts (42%)
30 Mar: 687 cuts (55%)
07 Apr: 776 cuts (63%)
17 Apr: 844 cuts (68%)
25 Apr: 935 cuts (76%)
01 May: 997 cuts (81%)
08 May: 1,056 cuts (85%)
15 May: 1,176 cuts (95%)
23 May: 1,236 cuts (100%)
For comparison Spirited Away took 16 months and 26 days (1 February 2000 - 27 June 2001) while Howl's Moving Castle took 17 months and 6 days (1 February 2003 - 7 July 2004).
---

This page is brought to you by Team Ghiblink.