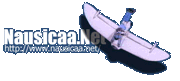 ---
|| Main | Mailing List | Films | Search | Ghiblink | Feedback ||


Gedo Senki
(Tales from Earthsea)
Goro Miyazaki's Blog Translation (Page 39)
22nd February 2006
Number 39 - Zero Marks as a Father, Full Marks as a Director
Hayao Miyazaki, to me, is "Zero Marks as a Father, Full Marks as a Director".
My father was almost never at home.
That's why for me, when I was a child, my mother had to fill the place of my father.
My father came home every day in the middle of the night, after I had already gone to sleep. He was always very conscientious in this regard - apparently, no matter how late it was, he always made sure that he came home.
But almost every Saturday and Sunday he was still at work regardless. That's why, from my earliest awareness to the present day, I hardly ever had the chance to talk to him.
He always came back after I was asleep, and when I left for school at 8 o'clock he was still asleep. That's why, when I was in elementary school, before going to school I often used to go and look in the bedroom to see if my father was there or not.
My father threw himself completely into his work.
Not only did he not look after the children, he never did a single bit of housework.
So my mother did all of that.
My mother was also an animator[1], but when my younger brother was born, just before I started going to elementary school, my father changed workplaces, and his work got even busier than before. So the result was, that in order to bring up the children, my mother had no choice but to give up being an animator.
---
Translator's Notes
[1]: Should that be animatrix? <g>
---

This page is brought to you by Team Ghiblink.