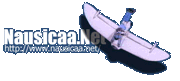 ---
|| Main | Mailing List | Films | Search | Ghiblink | Feedback ||


Gedo Senki
(Tales from Earthsea)
Goro Miyazaki's Blog Translation (Page 40)
23rd February 2006
Number 40 - My Mother's Opposition
I avoided entering the animation world for a long time.
In the prologue to this blog I wrote
"My father was against it (my being the director)",
but that is not the reason.
One large reason I avoided it was because my mother was against it.
Since I was a child, my mother had been telling me, "Don't become an animator"
I think that she didn't want me to have the same life as her husband: extremely busy with work, and never having the chance to see his family. Or to enter a world where inevitably the results of my work would be exposed to the eyes of the world, judged, and constantly compared with my father's.
And my mother's personal experience was that while her husband, on the one hand, was receiving recognition for the wonderful works he was creating, she, for her part, was driven into a situation where she was raising children almost entirely by herself, and was forced to quit the animator job she was proud of, in regard to which, she no doubt suffered feelings of shame in her heart.
So the feelings of my mother, who threw away the job she loved to raise me, were my number one concern.
My father was against it as well, but actually, it was still my mother's opposition that weighed heavier with me.
And even now, my mother is not wholeheartedly rejoicing that I am sitting in the director's chair.
---

This page is brought to you by Team Ghiblink.