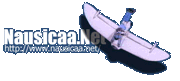 ---
|| Main | Mailing List | Films | Search | Ghiblink | Feedback ||


Gedo Senki
(Tales from Earthsea)
Goro Miyazaki's Blog Translation (Page 37)
17th February 2006
Number 37 - Touring through Italy, or climbing, or skiing
I haven't had much of a chance to watch it, but from what I've heard, the Japanese team has been doing it tough at the Torino [Winter] Olympics.
I'm not sure about all this "Medal! Medal!" business anyway, but on the other hand some people go "Well if Japan's not going to win, I'm not watching."
But that feels a bit lonely to me.
The world's finest skills [in these events] are on display for us, so we should just enjoy watching it, I think.
I am definitely a ski fan rather than a skate fan.
In particular, I like cross-country skiing.
I spent my University life in Nagano Prefecture[1], so every year, as soon as the season started, I went cross-country skiing. Part of why I enjoy watching the sport is that I have first hand knowledge of the delicate balance of wax selection to suit the amount of snowfall that day, the race strategies, the difficulty of going uphill, the exhilaration of going downhill, and so on.
But what I like more than anything else, I can't put into words well, but I guess you could say it's the feeling of moving at speed while the scenery changes.
The sports I like, Bicycle Touring, Mountain Climbing, Cross Country Skiing, are all outdoor sports rather than indoor ones, and in particular, they all involve going from one place to another. And, each different means of moving provides a different scenery to view.
Coming out of a forest, passing through a small town, descending a mountain, coming out onto the coast road. Not just vaguely passing by, but doing so while feeling the pain, the tension, and the speed, that's the feeling.
When I come home late at night and happen to put the television on, when I turn the channel to the Olympic broadcast, all I think about is travelling through that scenery after the movie is completed.
---
Translator's Notes
[1]: He attended Shinshu University there.
---

This page is brought to you by Team Ghiblink.