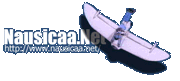 ---
|| Main | Mailing List | Films | Search | Ghiblink | Feedback ||


Gedo Senki
(Tales from Earthsea)
Goro Miyazaki's Blog Translation (Page 36)
16th February 2006
Number 36 - Mostly "Yamakei" sometimes "Gakujin"
I've been a little busy, and slacked off fairly severely about updating this blog. Considering that it goes under the "daily" label, I have to apologize.
Now let's return to the main subject.
Something interesting I saw recently was NHK's drama "Ice Walls", based on Yasushi Inoue's mountaineering novel of the same name.
I joined the mountaineering club in high school, and until I got involved with the Ghibli museum at about age 30
I climbed mountains a lot.
When I was in high school I buried myself in climbing stories, and one of the things I read was "Ice Walls", but the social drama side of this was stronger, so at the time I preferred the works of Jiro Arata, which depicted the drama of climbing itself.
That said,
I happened to see the ending of the "Ice Walls" TV drama, showing an aerial view of K2, the world's hardest mountain, which stimulated my climbing spirit.
So I went straight to the bookstore to read[1] "Yama to Keikoku", generally called "Yamakei"[2]. I was surprised, however, to find that it had become a magazine completely aimed at middle aged to elderly people.[3]
When I read Yamakei in Junior High and High School it had a "Climb a snow covered peak and ski down it" kind of feel. Now it has become something like "Put on snow shoes for a fun time trekking".
When I think about it, I suppose young people today don't go climbing.
There are a lot of climbing related magazines,
Yamakei, Gakujin[4], Iwa to Yuki[5] in order of increasing difficulty.
"Iwa to Yuki" is, as the name conjures up, about the hard stuff - lots of reports about overseas expeditions, detailed explanations about how difficult routes were climbed and how new routes were opened up - really something hard for high school students to get into.
But on the other hand,
when I was in Junior High School, "BE-PAL" came out, introducing an American style of trekking to Japan. It had a soft-option kind of feel to it, so I didn't read it much.
After this production is over, I'd like to go climbing in the mountains this summer for the first time in a long while. Of course not K2, just the Northern Alps in Shinshu.[6]
---
Translator's Notes
[1]: Reading of books and magazines in store (called "tachiyomi" [立 ち 読 み] literally 'standing-reading') is a common pastime in Japan.
[2]: Climbing Magazine. The name means Mountains and Valleys (山 と 渓 谷).
[3]: In Japan, a country with a small land area filled with mountains, the words "Mountain Climbing" include what English speakers might call 'hiking' or 'bushwalking'. The elderly readers are probably 'hikers' rather than rock-climbers or alpinists but there is no hard and fast distinction.
[4]: Gakujin [岳 人] means 'mountaineer'.
[5]: Iwa to Yuki [岩 と 雪] means 'Rock and Snow'.
[6]: Nagano prefecture, Japan.
---

This page is brought to you by Team Ghiblink.