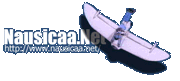 ---
|| Main | Mailing List | Films | Search | Ghiblink | Feedback ||


Gedo Senki
(Tales from Earthsea)
Goro Miyazaki's Blog Translation (Page 35)
10th February 2006
Number 35 - Depicting the dampness of the garden path
In the evening of the day before yesterday, Kazuo Oga brought one of his art boards to me.
Starting as the art director in My Neighbor Totoro, Mr. Oga has been involved as art director and/or background artist in almost every Ghibli film since then. He is the top man in this world.
What he brought to me this time was a scene of sunset dyeing a grassy plain red. Whether the clearness of the sky or the softness of the clouds or the hue of the grass, I couldn't help but gulp, it was that beautiful.
In anime background art, the colour of the sky is said to vary with the birthplace of the artist.
Not only animators, but background artists too, use the things they have actually seen with their own eyes as a base when they paint pictures. Mr. Oga from Akita prefecture[1] and Mr. Takeshige (the art director), who was born in Philadelphia and grew up in the neighbourhood of the Meguro River[2] have different primal landscapes.
For instance when Mr. Takeshige draws the back alleys of a squalid town, it's as if you can smell the damp gloomy atmosphere.
In contrast, when you are just drawing from photo collections and television I have the feeling that you can never really draw good pictures.
When you set yourself down in the middle of a plain of grass, then you understand the softness of the grass and the freshness of the warm grass for the first time.
And then that feeling comes out by itself in your pictures.
---
Translator's Notes
[1]: Largely rural prefecture in Northern Japan.
[2]: River flowing through Tokyo from Setagaya ward to Shinagawa ward, where it reaches the sea. Accordingly for most, if not all, of its length it is surrounded by buildings.
---

This page is brought to you by Team Ghiblink.