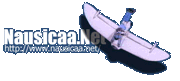 ---
|| Main | Mailing List | Films | Search | Ghiblink | Feedback ||


Gedo Senki
(Tales from Earthsea)
Goro Miyazaki's Blog Translation (Page 24)
24th January 2006
Number 24 - My morning's work is staring at the figures.
I can't think of anything special to talk about today, so I'll introduce you to what I do each morning.
When I arrive at work at 9:00 every day, the first thing I do is start up the laptop computer on my desk and check the volume of work completed the previous day, using a chart I created myself that shows the progress of each cut.
This is because of my experience in the construction consultant job I was previously involved with.
If you didn't have a constant grasp on the relationship between the limited construction time, and the amount of work that was done each day, it came back to hurt you badly later.
This kind of progress checking work is the responsibility of the production division, and of course they do it conscientiously, but just looking at a chart made by the production division, that is, just looking at lines of figures provided by somebody else, is really neglecting my responsibilities.
So I make my own charts and graphs as best I can and fill them in myself, thinking "Ohh, look how far we've got" or "Didn't do much yesterday hmm," and in this way I can get a real sense in my head of the overall state of progress.
---

This page is brought to you by Team Ghiblink.