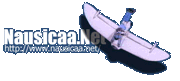 ---
|| Main | Mailing List | Films | Search | Ghiblink | Feedback ||


Gedo Senki
(Tales from Earthsea)
Goro Miyazaki's Blog Translation (Page 25)
25th January 2006
Number 25 - While Listening to the Theme Song
Yesterday I spent the whole day checking Mr. Momose's finished layouts. These were mainly from the last scene and there were about 25 or 26 of them. Mr. Momose has upped his pace even further since the New Year.
You can relax, for the all important last scene I wasn't listening to "Group Tamashii" but to the movie's theme song instead.
When this check was finished, the layout process had broken the 200 cut barrier - less than 200 cuts remaining out of about 1200.
Righto!
And the number of layouts I was responsible for passed 300 completed cuts. Having gotten through the difficult interior scenes, we're finally over the hump.
Of course, even when the layouts are finished, the bulk of the animation and artwork is still to come. But even if I can draw storyboards, and layouts which determine camera angles, I don't have the technique to draw key animation and backgrounds, so I can't participate in those.
And of course the storyboards are already finished, and the work of drawing layouts is approaching the final stages.
In this situation, looking over the whole production, the ink and paint division, that does colour design and selection, are short handed without their chief Ms. Yasuda, who is on holiday, so I'm thinking that I'll gradually start shifting my efforts in that direction.
---

This page is brought to you by Team Ghiblink.