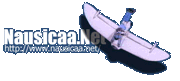 ---
|| Main | Mailing List | Films | Search | Ghiblink | Feedback ||


Gedo Senki
(Tales from Earthsea)
Goro Miyazaki's Blog Translation (Page 23)
23rd January 2006
Number 23 - The Trailer is Ready
First a word of thanks.
When I wrote in entry no. 21 of this blog ("I want to be popular without trying!") words to the effect that I had borrowed a CD of "Group Tamashii" from the art department and laughed as I listened to it, I received, straight away, a mail from someone at Ki/oon Records[1] saying, "Since you're listening to a borrowed CD, we'll send you one of your own."
Thank you very much.
Now I can finally return to the art department the CD I borrowed from them at the end of last year.
To change the subject, last Friday, the trailer for "Tales from Earthsea" (which is still in production) was mostly completed by a group of people around Keiichi Itagaki, the person who made the trailers for all the other Ghibli films up to now.
My thoughts on viewing it may sound strange coming from my mouth but...
This film looks interesting!
The staff who saw it with with me also raved about it: "Feels like a masterpiece" "Touches your heart", "The song makes you cry"... Of course this is based on the idea that, in one sense, the actual movie and the trailer are different films.
But even so, to assemble such trailers from so few cuts - I have to take my hat off to Itagaki-san.
The trailers were so impressive that both I and the staff fell into the illusion that the film was already finished.
But after awakening from the illusion, they all felt:
"The direction we're heading in is the right one. Right, let's go!"
One staff member said excitedly:
"This trailer says 'Come to the cinema!'"
The length of the trailer is about 3 minutes! It is expected to be shown in cinemas around the country, starting from the 24th of February (Sat).
Please look forward to it.
---
Translator's Notes
[1]: Group Tamashii's current label
---

This page is brought to you by Team Ghiblink.