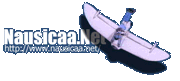 ---
|| Main | Mailing List | Films | Search | Ghiblink | Feedback ||


Gedo Senki
(Tales from Earthsea)
Goro Miyazaki's Blog Translation (Supplementary 2)
1st August 2006
Supplementary 2 - Barbell Corner in the Park
This morning, I thought I would get a bit of exercise. I went to Namsan park near the hotel and climbed up to Seoul Tower at the top of the hill.
In the park, lots of people were walking, playing badminton, or even using barbells!
People in Korea seem to be more enthusiastic about exercise than the Japanese.
But even so, the barbell corner in the park came as a surprise.
I felt good for having worked up a bit of a sweat. 'I'm in good form today!' I thought, and so thinking returned to the hotel where from mid-morning I had newspaper and magazine interviews. After lunch I went to the cinema where the preview was being held and did an audience greeting, interviews, combined press conference and then interviews in a tight schedule that went on until evening. When everything was finally over I was indeed completely exhausted.
However, in these interviews they all gave me their frank opinions, and all asked straight questions about the things they wanted to know. So, on the other hand, I found it really easy to talk. It probably also helped that because it had to pass through a translator, the conversations became simplified.
By the way, casting my thoughts back to the nationwide campaign, in the campaign Mr. Suzuki and I did half of the talking each. This time, I basically did the interviews by myself. So even though the number of interviews was the same, my talking time doubled. Of course I was going to get tired.
On the other hand if you thought Mr. Suzuki had it easy, that was not the case, He got tired out from waiting and worn out by the air-conditioner, so he was also totally exhausted.
We got together with the main staff for dinner. We ate together with everyone from Daewon C&&A and everyone from DR MOVIE. Today's menu was Yakiniku[1]. We ate too much again and everybody wound up with swollen stomachs.
After dinner we went to take a look at the Tongdaemun[2]. The way the people we saw there seemed to be overflowing with energy was really amazing.
Whether meeting the people from Daewon C&A and DR MOVIE, in the park in the morning, being interviewed, going to the cinema, looking at the flow of cars on the street, in Seoul everything gives the impression of being energetic.
I suppose you say they are full of the energy of life. That is something we don't have at the moment. That's my honest opinion.
---
Translator's Notes
[1]: Grilled meat
[2]: East gate
---
---

This page is brought to you by Team Ghiblink.