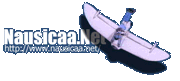 ---
|| Main | Mailing List | Films | Search | Ghiblink | Feedback ||


Gedo Senki
(Tales from Earthsea)
Goro Miyazaki's Blog Translation (Supplementary 3)
2nd August 2006
Supplementary 3 - To Everybody in Korea, Kamsa Hamnida[1]
This morning, after breakfast,
with Ms. Kim of Daewon A&G to see us off,
we left the hotel and headed to the airport.
By the way,
I am very grateful to this person Ms. Kim. Although she is still young,
she co-ordinated everything on our current trip, and on top of that did all the interpreting for my interviews.
She never showed any sign of being tired, and the smile never faded from her face.
She is really a wonderful woman.
We boarded our early afternoon flight,
and in a short time we had returned to Haneda.
These last few years, we have become able to see Korean movies and TV dramas in Japan. As a result we have started to feel a nearness to Korea. However on this current visit, despite the brevity of it, it became a much closer and more familiar presence for me.
I only saw a very little of Korea, but I've realised afresh that the only way to know the people of a place, is to actually go to that place and see it with your own eyes.
Then I thought that for these people who were unknown to me to watch the movie we had made was a really wonderful thing.
To everybody who looked after us in Korea, thank you very much.
---
Translator's Notes
[1]: "Thank you" in Korean
---
---

This page is brought to you by Team Ghiblink.