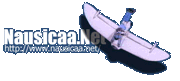 ---
|| Main | Mailing List | Films | Search | Ghiblink | Feedback ||


Gedo Senki
(Tales from Earthsea)
Goro Miyazaki's Blog Translation (Supplementary 1)
31st July 2006
Supplementary 1 - Now I'm in Korea
'This is where I end the Director's Blog', I wrote, but before my tongue had stopped moving[1], here I am writing the Director's Blog.
"You're meeting Ms. LeGuin, and until the result of that comes out you have a duty to report," Producer Suzuki told me. "I see", I thought.
Now I'm in Seoul, Korea.
Our purpose is to thank DR MOVIE[2], who co-operated with us on production, and also to pay our regards to our Korean distributor Daewon C&A. Finally, we have to give interviews prior to the Korean Premiere on 10th August.
On this occasion, in addition to myself and Mr. Suzuki there are several faces from among the main staff members here with us.
Because our departure was from Haneda[3], we had to assemble two hours before the flight. So I left my house some time after 5 a.m. rubbing my sleepy eyes...
However, it was the first early morning summer sky I had seen in a long time.
It was light aqua with pink mixed in, a really pretty colour.
Speaking of which, while we were in production on Earthsea, partly because of the background art, I watched the sky all the time. Now, partly because of the long rainy season, I have not been watching the sky for some time.
We reached Gimpo airport[4] some time before noon. This was my first visit to Korea.
I wasn't able to walk around the city, but looking at the flow of cars reminded me somehow of Rome.
My impression that they were incredibly aggresive, but there was an order to it all, was similar.
I remember how a long time ago in Rome, I hired a rental car. I couldn't manage to head in the direction I wanted and it took me an hour of going round and round in circles to get out of the city.
From the airport, with the guidance of Mr. Jong from DR MOVIE, I checked in at the hotel. After that we headed for the Seoul Animation Centre, where there was a preview screening being held.
This preview was being held as a thank-you to the staff of DR MOVIE, but even so I was incredibly nervous.
Even though it had only just been released a short time ago in Japan, now people from Korea, people with a different culture, were going to watch it. Thinking about how they were going to react to it, I found it hard to collect myself.
In the end, during the screening I sat in a nearby cafe, drinking tea and waiting for the movie to end.
The result, I'm sorry to say is that I still haven't got my thoughts together, so I will write about it at a later date.
Dinner was together with Chairman Jong of Daewon C&A and Mr. Jong of DR MOVIE and several others.
We had Korean palace food, which was really delicious. As I expected, I overate and my stomach is really stretched. In one week all Mr. Suzuki's efforts at moderation were turned to dust.
Tomorrow, starting in the morning, we are doing interviews and audience greetings all day. I'm fairly nervous about what kinds of questions I will be asked by the Korean media people.
By the way, the main staff members who came with us went to DR MOVIE and after that they were free. I really envy them.
This may be obvious, but even though we've come all the way to Seoul, Mr. Suzuki and I do not have any time to go sightseeing.
---
Translator's Notes
[1]: Literally, "before the root of my tongue has dried out".
[2]: An animation studio. From their website they appear to do a lot of work for overseas markets, both in Japan and the U.S.
[3]: Narita Airport is the more usual international gateway from Tokyo, but some international flights (especially to Asia, I believe) go through the 'domestic' airport at Haneda.
[4]: Seoul's old International Airport, replaced by Incheon International Airport.
---
---

This page is brought to you by Team Ghiblink.