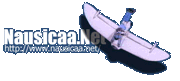 ---
|| Main | Mailing List | Films | Search | Ghiblink | Feedback ||


Gedo Senki
(Tales from Earthsea)
Goro Miyazaki's Blog Translation (Page 133)
29th July 2006
Final Entry - Beginning is Ending, Ending is Beginning
Finally today, we have come to the release date.
Ahead of the day one audience greeting we carried out from midday, Producer Suzuki and I did an audience greeting, from midnight, at what was called the Countdown audience greeting, at Toho Cinemas Roppongi Hills.
The MCs were the trio of middle-aged guys: Mr. Okuda from Nihon TV, Mr. Fujimaki from Hakuhodo DYMP, and then Mr. Ise from Toho; so I wondered what on earth was going to happen, but it turned out to be a great audience greeting with a handmade feel to it.
We received lots of applause from the people in the audience, they were holding banners too, and we were presented with flowers. It was an indescribable feeling.
[Photo of audience holding banner]
[Photo of Mr. Suzuki and Director being presented with flowers]
Then when the next day dawned, from noon we had the second audience greeting.
This was together with Okada and Aoi-chan.
I was saved by the sincerity of these two, and it was a really enjoyable audience greeting.
But I must say I was really surprised by the size of the cheers Okada got.[1]
[Photo of somebody (possibly Jun Okada?) making a speech at the function]
Afterwards, we had a small party.
Looking at the smiling faces of all the people gathered there, I was attacked by an overwhelming feeling like the night of a festival. So this is the end, huh... I thought.
In particular, the relief on the face of Toho advertising producer Mr. Ise, who had spent the recent advertising campaign, and then the first day of general release, running around for us, left an impression.
Mr. Ise, I'm really grateful to you.
That an amateur like myself suddenly became an animation director was really reckless, I think. But thanks to that I was able to meet a lot of people, and with their support, I was able to get to where we are now.
I can't give the names of every one of those people here, but to everyone who got so enthusiastically involved in the production and advertising of "Tales from Earthsea", I want to say a sincere thank you.
Recently I have been thinking that that a movie is something that stops being yours the instant it is finished. From that moment on the movie belongs to the customers.
In the instant of completion, the feeling, I suppose, is that it flies out of your hand, something like that. So the time when it sat in my palm was really only a very brief one, I think.
After this, the movie will pass from hand to hand through the hands of many people. I keep hoping they make its journey a happy one.
Next week we go to Korea and then we are planning to go to America to meet Ms. LeGuin, the author of the original books. Then in September we go to Venice.
So my association with Ged[2] will continue for a while yet. But for the present we will finish the Director's blog here.
To everyone who has read it up to now, I hope that some day I will be able to meet you all.
Because the beginning is an end and the end is a beginning.[3]
---
Translator's Notes
[1]: He's a pop star, a member of the group V6
[2]: Or "my association with Earthsea". The title is "Gedo Senki" in Japanese, so he says "my association with Ged". This could be a shortening of the title or a reference to the character or both.
[3]: This is the same as the title. I've varied the wording to make it fit in with the rest of the passage.
---
---

This page is brought to you by Team Ghiblink.