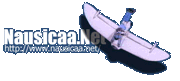 ---
|| Main | Mailing List | Films | Search | Ghiblink | Feedback ||


Gedo Senki
(Tales from Earthsea)
Goro Miyazaki's Blog Translation (Page 129)
25th July 2006
Number 129 - Regrets for our Eel
The campaign is at last in it's final stages.
On Monday we went to Shizuoka by Shinkansen. After finishing lunch, we went around TV -> Combined Magazine Interview-> Newspaper -> Radio -> TV -> Radio and then an audience greeting at the preview.
The other day, I wrote about how it was good to do the audience greeting at the old style theatre in Okayama. In Shizuoka city, there are a lot of these traditional theatres.
The one we did the audience greeting at was a preview screening at the Shizuoka Toho Kaikan.
We were really close to the audience here too. It was a really enjoyable time
Then, that day's lunch was eel.
It was really delicious but with no time until our return Shinkansen we ended up really having to cram it in, and suffered heartburn after.
It was a regrettable occurence.
On Tuesday we will go, by Shinkansen again, to Niigata.
This is the last destination of the campaign.
---
---

This page is brought to you by Team Ghiblink.