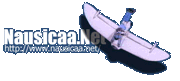 ---
|| Main | Mailing List | Films | Search | Ghiblink | Feedback ||


Gedo Senki
(Tales from Earthsea)
Goro Miyazaki's Blog Translation (Page 128)
21st July 2006
Number 128 - P. Suzuki's offsider Ise-yan
From Okayama we returned to Tokyo by Shinkansen.
With the feeling of being only partway tired out, I returned to my house and sat around vaguely.
In the small remaining time of the campaign,
Monday next week is Shizuoka[1]. Tuesday is Niigata. Both of these are day trips.
The person who's been going along with us throughout the whole campaign is Mr. Ise from the Toho advertising department, known as Ise-yan[2]. The person responsible for putting together this ultra-logical merciless schedule with no let up, is also this Mr. Ise.
He looks older than his real age and has a slightly twisted appearance, the flip side of which is that he is a logician who graduated from a super-first-rate national university. At first sight Mr. Ise seems to have no connection to worry, but in fact he pays close attention to small details.
When he saw that Mr. Suzuki seemed to be running low on fuel, he immediately obtained chocolate almonds.
He arranged Mr. Suzuki's nightly massage. He encourages Mr. Suzuki with poisonous black humour. He obtains sports newspapers to delight Mr. Suzuki with pro baseball stories. He does an all-round mighty effort as Mr. Suzuki's right-hand man.
In most cases, when people are looking after you, it actually has the opposite effect of wearing you out.
But Mr. Ise's feeling of sloppiness, the way he doesn't give the feeling of looking after us, is a real lifesaver.
Only one week until release.
Mr. Ise we're counting on you for just a little longer.
---
Translator's Notes
[1]: Coastal prefecture south of Tokyo, between Tokyo and Nagoya
[2]: I think "-yan" is some slangy/dialect form of "san"
---
---

This page is brought to you by Team Ghiblink.