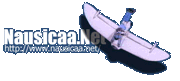 ---
|| Main | Mailing List | Films | Search | Ghiblink | Feedback ||


Gedo Senki
(Tales from Earthsea)
Goro Miyazaki's Blog Translation (Page 130)
26th July 2006
Number 130 - Regrets for our Eel
Today is the last day of the campaign, we headed off to Niigata[1] on the Joetsu Shinkansen.
Because of Mr. Ise's concern that we be allowed to go easy in the morning, we had tonkatsu bentos[2] for lunch in the car.
After a first half in which Producer Suzuki and I separated and went around two T.V. stations, we came together to visit a third T.V. station, and then have interviews for newspaper and radio before going to the cinema.
The weather forecast was for rain,
but while we were heading to the cinema, we saw blue skies, and could watch our first sunset for a long while.
It was really a long time since I had seen the sun, since Okinawa.
That the final day of the campaign should be such weather, just this alone made me mysteriously joyful.
The cinema we did the audience greeting at was United Cinemas Niigata.
The staff all came outside to welcome us and the hall had handmade posters hanging up. I was completely bowled over, and and as a result went around signing all the posters.
Then, at the end of the audience greeting, when we were being presented with bunches of flowers[3], one person who appeared holding a bunch of flowers looked a lot like Aoi Teshima - hang on - on a closer look it actually was her!
This really took me by surprise. She came all the way from Fukuoka for this[4]. Thank you Aoi-chan.
And whether because of Aoi-chan, or on the other hand, whether because this was the last day of the campaign, at the end of the [audience] greeting, the corners of my eyes were hot.[5]
So with this, the nationwide campaign that began on July 4th is over.
The towns and cities we visited were,
Fukuoka, Kumamoto, Toyama, Takaoka, Kanazawa, Fukui, Sapporo, Akita, Sendai, Osaka, Nagoya, Naha, Kochi, Matsuyama, Hiroshima, Okayama, Shizuoka, Niigata - 18 towns and cities nationwide.
To everyone who gave us a warm welcome in all these places, to everyone who ran around making preparations, thank you really very much.
And to the people in areas we didn't visit, I want to apologize.
One day we'll definitely get there.
Tonight I separate from Mr. Suzuki, Mr. Ise and Aoi-chan, who are staying in Niigata and return to Tokyo by Shinkansen.
Tomorrow I have interviews at the studio from the morning.
---
Translator's Notes
[1]: Prefecture on the Sea of Japan Coast. Home of skiing in winter and rice farming in summer.
[2]: Boxed lunch with deep fried pork cutlet
[3]: Not clear from the text whether Mr. Suzuki was with him or he was doing it by himself. From previous entries I presume Mr Suzuki was with him on stage.
[4]: In Kyushu. Quite a long way to come.
[5]: That is, it brought tears to his eyes/he was feeling quite emotional.
---
---

This page is brought to you by Team Ghiblink.