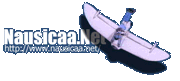 ---
|| Main | Mailing List | Films | Search | Ghiblink | Feedback ||


Gedo Senki
(Tales from Earthsea)
Goro Miyazaki's Blog Translation (Page 127)
21th July 2006
Number 127 - The Warmth of Existing Mansions
This morning our departure was late so I wiped myself out with sleep for the first time in ages. Our destination by Shinkansen was Okayama.
After we finished recording something for NHK[1] in front of Okayama station, we had lunch. Today we had curry at a coffee shop![2]
After all the wonderful food we've been eating, this was delightful. "Ordinary stuff is good isn't it", I thought.
After that we went via the TV station to Toho Cinema Okayama, had an interview at the cinema and then went straight into the audience greeting. Then we went on the move again, to Okayama Melba where we did our second audience greeting.
This Okayama Melba, the people in the industry say, is what you call a traditional theatre[3]. The truth is that all the cinemas we visit in this campaign have been cinema complexes. This is the first old-style theatre.
This Okayama Melba was really good.
I can't call it clean even in flattery (sorry!), and the seats were narrow, but I felt an affinity for the audience sitting packed shoulder to shoulder waiting for the movie to start and from the stage everyone's smiling faces seemed really close and it was a really delightful experience.
I remembered that in the old days, there used to be a line up of people queueing to get in to see a popular film, people were standing at the back and sitting in the aisles and you waited excitedly for the film to begin surrounded by the heat of a full house.
You had to leave after it was over, but I remember that if you really wanted to see it again that some people hid in the toilets.
I can't help thinking that in those days the distance between a film and the audience was a lot closer. Comfortable cinema complexes are good too, but the excitement of a theatre in those days was no small thing, I thought.
That night I thought, Do your best Okayama Melba!
Tomorrow we are supposed to be going to Matsue, but they are having a hard time with the heavy rains[4].
In these circumstances we can hardly show up with our movie campaign, so we changed our plans and returned to Tokyo.
It's a real shame. People of Matsue, we'll definitely come to visit you another time.
---
Translator's Notes
[1]: National Broadcaster
[2]: Curry is a perpetual favourite of the Japanese. Japanese coffee shops are liable to provide curry, spaghetti and so on in addition to coffee, tea and whatever.
[3]: The Japanese for this is "kisonkan" (既 存 館) . I'm not sure what the constituents of a traditional Japanese movie house are, but I suppose it is your old-style single screen movie theatre.
[4]: Possibly because of associated landslides and flooding?
---
---

This page is brought to you by Team Ghiblink.