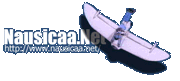 ---
|| Main | Mailing List | Films | Search | Ghiblink | Feedback ||


Gedo Senki
(Tales from Earthsea)
Goro Miyazaki's Blog Translation (Page 126)
20th July 2006
Number 126 - "Tales from Earthsea" in Hiroshima
Last night, I was checking interview drafts until after two in the morning. So indeed I really couldn't wake up at all.
In the middle of fierce rain, we boarded a boat in Matsuyama, leaving Nayochin behind to see us off from the pier (photo below) and headed for Hiroshima.
[Photo of Nayochin photographing them with a camera and video-camera simultaneously]
Our first job in Hiroshima was lunch.
What we received was Okonomiyaki[1].
The Okonomiyaki we had in Osaka the other day was also pretty good[2], but this tasted even better than that.
After that we had a lot of things planned... . But I'll give up writing about them.
Impressive was the unexpected reserve of the people of Hiroshima. Western Japan is in a nutshell Kyushu, Shikoku, Chugoku[3], Kinki[4], they all have their [own] colour, don't they.
The final stops today were two audience greetings at Toho Cinema Midorii and Hiroshima Balt 11. At both of them it was enjoyable to greet the audiences, but the reason was Mizuho Nishina from Hiroshima TV who did the MCing.
She was such a natural airhead that I couldn't resist slipping a few digs in.
But I mean, "Geso Senki"[5], come on...
She was an amazing person.
---
Translator's Notes
[1]: Pancake like fried food made from eggs batter and other ingredients (such as pork/cheese/prawns/onions fried on a hotplate.
[3]: Not China, but the Western half of the main island of Honshu (including Hiroshima).
[4]: Kansai region of central Honshu, including Kyoto Osaka Nara and Kobe.
[5]: The Japanese title of the film is "Gedo Senki". She pronounced the title of the movie completely wrong.
---
---

This page is brought to you by Team Ghiblink.