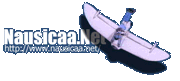 ---
|| Main | Mailing List | Films | Search | Ghiblink | Feedback ||


Gedo Senki
(Tales from Earthsea)
Goro Miyazaki's Blog Translation (Page 126 extra)
20th July 2006
Urgent Report - Look out Mr. Suzuki!
Danger came to visit.
Not for Mr. Suzuki's legend of the fine weather man, but for his stomach.
You see, day after day he has been moving around by car or whatever, so he almost never walks around. The only things he has been doing is talking and moving his mouth.
Then at morning, noon and evening he has been regular about his meal intake.
Between times he has been mindlessly eating almond chocolates.
If nothing happened because of this, he wouldn't be human.
He himself denies this, but from the time the campaign started, without even mentioning his stomach, his chest, arm, under his jaw were all plump.
Even Mr Ise and myself suffered physical problems.
Just climbing the stairs from the first floor[1] of the Matsuyama TV Station to the 3rd Floor[2] I was out of breath. This gave me chills up my spine.
The end stages of this campaign make me seriously think that once this campaign ends, if I don't flog myself on the bike I'm going to be in bad trouble.
---
Translator's Notes
[1]: [For non-Americans] Ground Floor
[2]: [For non-Americans] Second Floor
---
---

This page is brought to you by Team Ghiblink.