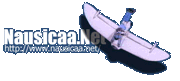 ---
|| Main | Mailing List | Films | Search | Ghiblink | Feedback ||


Gedo Senki
(Tales from Earthsea)
Goro Miyazaki's Blog Translation (Page 125)
19th July 2006
Number 125 - Matsuyama, Balance of the Skies
Today is the day we move from Kochi to Matsuyama.
In Matsuyama that Nayochin is supposed to be waiting for us.
What balance will hold between the self professed rain man[1] Nayochin and the powers of Mr. Suzuki[2]...?
Leaving Kochi castle behind us being sprinkled by a light rain, we headed for Matsuyama by car. By the way, the day after tomorrow, we will go by boat from Matsuyama to Hiroshima. This will complete the conquest of land sea and sky by our movements on this campaign.
This was the first time in my life I'd been to Matsuyama.
But I was reminded afresh that a town where trams run and with a castle and a river, is a nice place, wherever you go.
Today's schedule was,
TV -> Radio -> TV -> TV -> Magazine -> TV -> Audience Greeting.
(Writing this every day has become a little trying...)[3]
After the audience greeting I had dinner with Mr. Sasaki, the director and general manager of the cinema, Cinema Sunshine and the others. After that, I had my first "drink" since the campaign began. Then I enjoyed Karaoke, which had been put aside[4] since spring last year.
Thank you General Manager Sasaki and everyone.
But from the time I met him I had the feeling that this Director Sasaki was no ordinary person. However, it is at night that his real strength is fully displayed.
Todays lodgings were in a Ryokan[5] for the first time this campaign. Tatami[6] and a large bath[7] are really good things. By the way, at present (19th, 2:30) no real rain has yet fallen.
---
Translator's Notes
[1]: His presence anywhere is supposed to always brings rain
[2]: Who supposedly creates fine weather everywhere he goes
[3]: This is Goro's comment not mine
[4]: Literally "had been sealed up" - presumably because he has been too busy.
[5]: Japanese style inn (as opposed to a western style hotel).
[6]: Straw matting, which traditional Japanese rooms have as a floor. Since the Japanese sleep on futons directly on this floor, the feeling is different to sleeping in a bed.
[7]: Japanese style common bath, instead of small hotel bath.
---
---

This page is brought to you by Team Ghiblink.