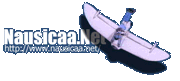 ---
|| Main | Mailing List | Films | Search | Ghiblink | Feedback ||


Gedo Senki
(Tales from Earthsea)
Goro Miyazaki's Blog Translation (Page 124)
17th July 2006
Number 124 - The Intrepid Smile of the Ad Pro Mr. Ise
This morning, on the way to Naha airport, we dropped in on "MIHAMA7PLEX"[1] in Chatan's[2] American Village[3].
Yesterday's cinema Q was the same - there's something in cinemas in Okinawa that's fun.
Perhaps because it was a holiday morning, when we arrived, there were already a large crowd of customers there.
And then what surprised me was that everybody said, "Can I have your autograph please", and then turned their backs! In other words, what they were saying was write on the back of their T-shirts! That was where I felt the easy-goingness of the people of Okinawa coming out. Although I felt a little nervous about it, I made sure to sign them all properly.
After that, we went to Kochi in Shikoku.
I had not been to Kochi since I was a student.
The program for Kochi was: Press Conference and Newspaper, TV, Radio, Magazine and I couldn't get away from Mr. Suzuki's "holiday feeling", it was really gentle.
Was this also thanks to Mr. Nishinoo of Toho's Kansai[4] branch?
Because of this easy schedule,
the workaholic Mr. Suzuki seemed to fall into frustration,
so at the audience greeting at Toho Cinemas in Kochi,
I did almost all of the talking myself.
And then Mr Suzuki suddenly attacked the Tower Records in the same shopping centre as Toho Cinemas, and energetically researched the sales of the "Tales from Earthsea Song Collection".
Spiritedly, and forcefully, he conducted a sales campaign on all of the staff. He's definitely the number one?[5] producer in Japan.
For dinner we received delicious Tosa[6] cooking, and when we were on the point of saying goodbye to go back to our hotel rooms, the Toho ad producer, Mr. Ise, said this:
"From tomorrow, we're back in hell... , heh heh heh"
Tomorrow is Matsuyama, the day after tomorrow is Hiroshima.
Waiting in store for us there is a strong force from Toho Kansai Branch the equal of Mr. Ono from Chubu[7] Toho.
Tonight we're going to bed early, ready to fight tomorrow!
---
Translator's Notes
[1]: Cinema
[2]: Town in Okinawa
[3]: Former American Base that has been turned into a resort
[4]: Kansai is the Osaka. Kyoto, Nara area
[5]: This is Goro's question mark, not mine
[6]: Old name for Kochi area
[7]: Basically everything between Tokyo and Kyoto (roughly speaking). The largest city in this area is Nagoya.
---
---

This page is brought to you by Team Ghiblink.