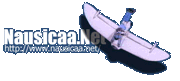 ---
|| Main | Mailing List | Films | Search | Ghiblink | Feedback ||


Gedo Senki
(Tales from Earthsea)
Goro Miyazaki's Blog Translation (Page 123)
16th July 2006
Number 123 - Nifue-de-piru[1] Okinawa!
Carrying a suitcase bulging with even more changes of clothes than last week, I left home early in the morning again today, to go to Haneda Airport.
Why is the train empty, I wondered? - today is Sunday.
I had completely lost track of what day it is.
I was also unaware that today is the middle day of a three-day weekend...
Naha[2] had a blue sky that seems almost transparent, everything looks clear and vividly coloured.
Though it's true that the sun's rays are strong and hot. Perhaps because of the sea breeze, it's more pleasant than Tokyo.
On the way to the interview location, Producer Suzuki obtained a pair of sandals.
Seeing that, I wanted sandals as well, and bought a pair at a shop near the location.
(After that, Mr Suzuki even wore the sandals at the audience greeting)
[Picture of Toshio Suzuki standing on a beach at the water's edge]
[Caption in Bold] Mr Suzuki in an unaccustomed pose: standing quietly by himself at the edge of the waves
But, how do I put this,
in this Okinawa campaign time flows slowly,
so much so that Mr Suzuki said "It's like we're missing something".
This is definitely not meant in a bad sense,
on the other hand, you can have some good long conversations,
and the character of the people of Okinawa appears,
it's very heartwarming.
Assistant Director Mr. Tamagi[3], Section Manager Mr. Hirashiki[3], and everyone from Kokuba-gumi, which name when I first heard it gave me a shock (Sorry to write this. It's actually the company that manages Cinema Q)[4], there was really great to us.
Again this was the limit of happiness.
I would really like to thank everyone in Okinawa very much!
After briefly dipping my feet in the Okinawan sea, I do a two day series in Shikoku[5] from tomorrow.
First Kochi, then Matsuyama.
---
Translator's Notes
[1]: My guess is this is probably Okinawa dialect for "Hello" or "Welcome"
[2]: Main city and prefectural capital of Okinawa.
[3]: These two names are my best guess at the most likely readings.
[4]: The suffix -gumi usually follows the name of a Yakuza gang. That is probably why he was shocked to hear the name.
[5]: One of the four main islands of Japan - the only one he has yet to visit. Shikoku is just south of Western Honshu and east of Kyushu.
---
---

This page is brought to you by Team Ghiblink.