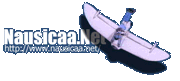 ---
|| Main | Mailing List | Films | Search | Ghiblink | Feedback ||


Gedo Senki
(Tales from Earthsea)
Goro Miyazaki's Blog Translation (Page 122)
15th July 2006
Number 122 - Mr. Ono of Nagoya
I'm not really sure about carrying on the 'Fine Weather Man' thing this long, but todays weather in Nagoya was fine and the heat was scorching. Apart from anything else, this is Producer Suzuki's home town. I suppose it's a case of "Ah, Now I see..."[1].
This morning at half past eight we left the hotel and the day began. The person who was organizing this Nagoya series was Mr. Ono, the boss of the implementation unit at Toho's Nagoya branch.
Mr. Ono was also with us for the Hokuriku series[2] but in his diligence and his callousness, he is like the character Hare who appears in "Tales from Earthsea".
As if Mr. Ono was playing around with us, Mr. Suzuki and myself were split up into two groups to walk around the various interview and recording locations. At midday we made a sudden visit to a cinema, eating lunch in the car on the way to TOHO Cinemas Nagoya. Despite the suddeness of the visit, we were warmly welcomed and I would like to say thank you very much to everyone at TOHO cinemas in Nagoya.
The location we headed for once the interviews were all over was today's screening location at Aichi Labor Hall. This actually has a capacity of 1400 seats.
The fact that these were almost entirely full was the highlight.
Even at the audience greeting, I was overjoyed at the very warm applause I received.
By the way, today, the 14th, was the day for private viewing of the Aichi World Expo grounds that are being re-opened.
In that is included "Satsuki and Mei's House", so I felt deep emotion, thinking "up to February last year I was doing that wasn't I...[3]
Time really goes by so fast.
Today I get to return home for the first time in a long while.
Then Sunday is Okinawa.
The second half begins.
---
Translator's Notes
[1]: The Japanese phrase used here "mubenarukana" (all hiragana) references some story about an emperor who memorably uttered the pithy phrase on being offered a fruit that prolonged life and biting into it. I suppose it means something like "having seen, I now believe".
[2]: From 7th July to 8th July. Diary Entries 116 to 117
[3]: The Aichi World Expo included a reproduction of Satsuki and Mei's house (from My Neighbor Totoro), that was so popular that people had to go into a lottery months in advance for special tickets to visit it. This was due to re-open as a paying attraction on 15th July. I suppose the whole site is now being opened in some form or other and this is a preview.
---
---

This page is brought to you by Team Ghiblink.