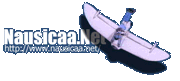 ---
|| Main | Mailing List | Films | Search | Ghiblink | Feedback ||


Gedo Senki
(Tales from Earthsea)
Goro Miyazaki's Blog Translation (Page 116)
8th July 2006
Number 116 - Hokuriku Series
Yesterday and today we were in the 3 prefectures of Hokuriku[1].
First we entered Toyama, where we had a string of interviews.
Until now, I had been squeezed into hotels, but this time I went directly to the newspaper company, or the TV or radio station. All the running around was tough, but I could breathe the outside air, and walk around, so I have the feeling that this way is healthier.
After that I did audience greetings at three cinemas; Favore Toho, Takaoka TOHO Cinemas and Warner MyCal Okyouzuka. At every theatre I was really overjoyed at how much effort they had put into supporting the film.
Especially, at the first two theatres, they had their food and drink counters overflowing with Earthsea characters. This home made feeling was hugely enjoyable.
[picture of Earthsea character pics fronting meal deals at concession stand]
Then the final audience greeting at Okyouzuka was actually after the film. I could directly see the reactions of people who had watched it, it was the best.
This was a day when I strongly felt that movies, in the final result, are supported by the cinema staff, and then by the customers.
Regardless, when I finally had dinner, and got to my hotel it was 12 midnight.
The day was really so mad that I loved it.
---
Translator's Notes
[1]: This is the North West Coast area of Japan facing onto the sea of Japan. The three prefectures are Toyama, Ishikawa and Fukui prefectures.
---
---

This page is brought to you by Team Ghiblink.