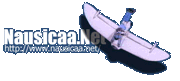 ---
|| Main | Mailing List | Films | Search | Ghiblink | Feedback ||


Gedo Senki
(Tales from Earthsea)
Goro Miyazaki's Blog Translation (Page 119)
11th July 2006
Number 119 - The Bullet Tour Continues
Hokkaido is the real deal.
Morning in Sapporo was really invigorating and felt wonderful[1].
At 7:15 a.m. I left the hotel and headed for Chitose airport.
Next stop Akita.
On the plane, when I looked out the window, before long I could see Mt. Choukai. On the other side of Mt. Choukai, that is, on the Yamagata prefecture[2] side, I have relatives living, so without thinking, I had the feeling of returning to a familiar place.
From the airport, I went first to Akita TOHO cinema. After being shown around, I recorded an interview at the T.V. station and then went to the hotel for a joint press conference. Then there was a live performance[3] at the radio station.
I thought that perhaps the people of Akita would also be reserved as well, but at the press conference I received a lot of lively questions.
But, in mediums such as radio where the broadcast is going out live, you have a consciousness of being unable to take back what you've said. Possibly for that reason, I felt that Producer Suzuki's statements were bolder than ever.
After 3 p.m. we boarded the Komachi Shinkansen[4] at Akita Station and headed for Sendai. At Sendai I had two interviews in the hotel after we arrived and then work for today finished early.
Tomorrow I am all day in Sendai. Every day is this bullet tour feeling, so staying in the one place two nights running feels really relaxed and taking it easy.
---
Translator's Notes
[1]: Tokyo is hot and sweltering at this time of year
[2]: Prefecture neighbouring Akita
[3]: I am not sure what this means. I think it just means he had a live interview on-air.
[4]: The "Bullet Train". "Komachi" is one of the types of Shinkansen train, doing the Akita route.
---
---

This page is brought to you by Team Ghiblink.