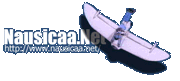 ---
|| Main | Mailing List | Films | Search | Ghiblink | Feedback ||


Gedo Senki
(Tales from Earthsea)
Goro Miyazaki's Blog Translation (Page 120)
12th July 2006
Number 120 - Toshio Suzuki, Man of Fine Weather[1]
Today I was in Sendai the whole day.
I had a press conference in the hotel that I am staying in, so the schedule assemble for the conference by 10) was a really welcome one[2].
In the evening, between the live television broadcast and the radio taping, I went to MOVIX Sendai.[3] It was a sudden visit, but they were really putting a lot of effort into "Tales from Earthsea". We were mobbed by the staff and customers for autographs, and it was a really delightful time.
When I looked at the young staff at the cinema, they reminded me of the staff members of the same age at the Ghibli Museum, and I felt 'Oh, I want to go back to the Ghibli Museum.'
To change the subject, regardless of it being the rainy season[4], during this campaign I have almost never encountered rain that was worthy of the name.
Last week we went to Kyushu, which had been having nothing but heavy rain. While we were there, it hardly rained at all. The series in Hokuriku, and the Sapporo, Tohoku series this week, were the same.
The cause really seems to be Producer Suzuki.
According to the man himself, even when he went to Yakushima[5] which is famous for having lots of rain, and even when he went to Ireland, they had continuous fine weather while he was there, he boasted.
Toshio Suzuki is scary.
---
Translator's Notes
[1]: In Japanese "Hare Otoko". There are some people (Ame otoko/ame onna) who whenever you go anywhere with them, it rains. People like Mr. Suzuki are the reverse, the director is saying that he brings fine weather with him wherever he goes.
[2]: He's had hard schedules, so the change to lie around the hotel until 10am without having to rush off anywhere is luxurious for him.
[3]: This is a cinema in Sendai.
[4]: Rains just about everyday from the end of May to Mid July (or this year, until the end of July).
[5]: Island off southern Kyushu, World Heritage site and famous Ghibli destination.
---
---

This page is brought to you by Team Ghiblink.