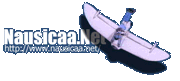 ---
|| Main | Mailing List | Films | Search | Ghiblink | Feedback ||


Gedo Senki
(Tales from Earthsea)
Goro Miyazaki's Blog Translation (Page 118)
10th July 2006
Number 118 - The Quiet Passion of Hokkaido
Today I leave in the morning for Sapporo.
In contrast to last week's overnight trips, I headed for Haneda Airport[1] with a bag that was heavy and bulging with changes of clothes.
For reasons to do with the plane, take off was delayed and I received a boxed lunch as we were taxiing. However you can tell it's Hokkaido because the lunch was a Kaisen bento[2].
Unlike the heavy humidity of Tokyo, the humidity in Hokkaido is low, the breeze is refreshing and it feels really good. I had interviews in the order of: radio -> radio -> newspaper -> newspaper -> TV -> TV and had an audience greeting in the evening.
The people of Hokkaido are really gentle and reserved. Possibly for that reason, the questions in the interviews left an impression of being reserved.
Last weeks Kyushu and Hokkuriku series, which was overflowing with vitality, also left a deep impression, but (and this is definitely not a negative opinion, honest!) Hokkaido, on the other hand, also has a really pleasant local colour.
A feeling of heated passions in the midst of quiet surroundings.
At the cinema where the preview was screening it was so full they had put out extra seats. I felt a real sense of delight. Thank you very much.
Tomorrow I leave early for Akita[3] and in the evening we are schedule to arrive in Sendai[4].
---
Translator's Notes
[1]: Tokyo's main domestic airport
[2]: A kind of boxed lunch. 'Kaisen' means seafood, and one of the things Hokkaido is famous for is it's seafood.
[3]: Prefecture at the northern end of the Japanese mainland (Honshu), south of Hokkaido.
[4]: Large town in Central-Northern Japan (a fair journey from Akita prefecture).
---
---

This page is brought to you by Team Ghiblink.