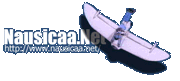 ---
|| Main | Mailing List | Films | Search | Ghiblink | Feedback ||


Gedo Senki
(Tales from Earthsea)
Goro Miyazaki's Blog Translation (Page 113)
4th July 2006
Number 114 - Campaign Start!
On Monday I had interviews all day at the Toho Company Headquarters.
Although I have gotten used to it, doing 10 of them at once does really wear you out.
When being interviewed in the studio, I can go out in the breaks, and mess around with Nayochin in PR, and otherwise get a change of pace. But being stuck all day in a room with windows that don't open and having to concentrate on interviews seems to wear you out more than you'd think from just the time spent doing it, I felt.
On Tuesday the 4th, I headed off to the first location on the campaign, Hakata[1]. Getting on a 7 a.m. rush hour train on the Chuo-Line[2] for the first time in a long while, and rubbing tired eyes, I set off for Haneda airport.
On the plane out, Producer Suzuki was snoring next to me. After 2 straight days of mental stress he seemed thoroughly worn out.
We arrived in Hakata after 11 a.m. From there we went straight to the hotel where the interviews were to be held, and after an early lunch, the interviews began straight away. After a total of 7 interviews, with a press conference wedged in between them, I greeted the audience at the preview[3], and the day came to an end.
Because it is the hometown of Aoi Teshima, I have the feeling, for no particular reason, that the fact that the campaign starts here is a good omen.
Added to that, Miss Teshima was there, the people from Yamaha, Mr. Okuda from Nihon TV[4]. Mr. Fujimaki from Hakuhodo[5], all these people that I know had all hurried over there, so the start of the campaign didn't feel any different to usual - for which I was really grateful. If I had only been alone with Producer Suzuki, I might have been in much lower gear...
I can really understand the reason that Mr. Suzuki might want to call in all kinds of people during the campaign.
On Wednesday the 5th, we are scheduled to leave for Kumamoto in the morning.
---
Translator's Notes
[1]: Hakata = Fukuoka = the largest city in Kyushu (They were originally two separate cities that merged.)
[2]: This is the main western line in Tokyo, that runs from the Western outskirts of Tokyo, through Shinjuku in West Central Tokyo and in to Tokyo Station. From there the director would head to Haneda airport (Tokyo's other airport & main domestic airport) by other trains, by subway, or by train and monorail.
[3]: The director stands in front of the screen and delivers a little speech, saying "I hope you enjoy my movie."
[4]: I think this is Seiji Okuda, head of Nihon TV's Movie Business Department and Associate Producer on Princess Mononoke. He seems to have started as an animator himself. A (Japanese) interview with him.
[5]: I think this must be Naoya Fujimaki a Hakuhodo employee who has been involved as a producer or production committee member on several Ghibli (and other) films such as Pom Poko, Whisper of the Heart and My Neighbours the Yamadas. He actually has a minor voice role in Princess Mononoke. Hakuhodo is Japan's second largest advertising agency.
---
---

This page is brought to you by Team Ghiblink.