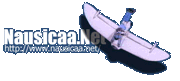 ---
|| Main | Mailing List | Films | Search | Ghiblink | Feedback ||


Gedo Senki
(Tales from Earthsea)
Goro Miyazaki's Blog Translation (Page 112)
3rd July 2006
Number 112 - Hayao Miyazaki's Impressions
Saturday last week, there was a launch party for the people connected with the movie.
I got up on a stage to greet everybody,
and when I took a look at the faces of all the many people sitting there,
I completely forgot the words of the speech I had planned,
and I was unable to give a good speech.
When I think that it was through so many people that this movie was born,
I become overjoyed and full of gratitude.
Everybody who gave of their all for the movie "Tales from Earthsea",
I can't give your names individually here, but I am really, really grateful to you.
And then, in the middle of the party, the colour designer Ms Yasuda relayed a message from Hayao Miyazaki.
"It was made honestly, so it was good".
These few words brought tears to my eyes.
Of all the things he has said until now,
those words of my father's brought the most joy to me.
Suddenly a positive feeling of resolve to keep doing my best welled up in me.
Today I am receiving interviews all day
Tomorrow I set out on the national tour at last.
Tomorrow, the 4th, I am in Fukuoka[1] and going to Kumamoto[2] on the 5th.
Actually, until just a little while ago,
I found the idea of going on campaign painful,
Now I find the idea of going all over the place and talking to lots of people has become something I'm looking forward to.
I guess I'm self interested.
---
Translator's Notes
[1]: Largest city in Kyushu
[2]: Another city in Kyushu
---
---

This page is brought to you by Team Ghiblink.