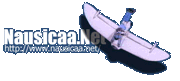 ---
|| Main | Mailing List | Films | Search | Ghiblink | Feedback ||


Gedo Senki
(Tales from Earthsea)
Goro Miyazaki's Blog Translation (Page 111)
29th June 2006
Number 111 - The First Preview[1] is Over
Yesterday, at Imagica in Gotanda, we held the first preview.
For myself, since all I had to do was watch the finished product, I made light of it, but I woke up after 5 this morning and realised, admittedly a little late[2], that I was really tense.
On top of that, the Director Hayao Miyazaki, who I hard heard would not be coming to the first preview, was now suddenly going to come.
The location of the screening was filled with over 140 people connected to the film. From the instant I sat down in my seat, I fell into an abnormal state of tension. Honestly, I don't remember what I saw.
Because I was in such a state, although I received applause at the end of the screening, and words of appreciation from a lot of people, I wasn't able to respond well to them. I felt like I had no strength in my hands. I never though in the slightest that it would turn out like this.
Now looking back when everything is finished, if I am going to speak without fear of being mistaken, I have to think "What on earth did I create?". And in addition to that, I am only now starting to feel a kind of fear. The time when I will be able to sum up this film "Tales from Earthsea" inside myself is a long long way ahead.
But the ability to come this far, was really thanks to the help of a lot of people and my feelings of gratitude just keep getting bigger and bigger. The way that each persons individual strengths came together and crystallised into this work is really a wonderful thing, I think.
I certainly filled the role of director, but in creating the movie "Tales from Earthsea", that was no more than a single role. The ones who created in were the staff members, whether from inside or outside the company, and I was no more than a single one of them. I want to make that clear to everybody again.
Also, I wrote a lot of things in yesterday's entry about the interviews that are coming up. On reflection, I think that it is going a little too far for somebody in my position to keep going on about it like that.
In anticipation of the day after the first preview, my writing style has become slightly nervous.
Now, I am the subject of interviews, so I will respond as honestly as possible, and through that try to bring an interest in "Tales from Earthsea" to as many people as possible. That is now, I think, how I can do my absolute best for the film.
---
Translator's Notes
[1]: Should this be "Advance Screening?"
[2]: Japanese "Okurebasenagara". Okureru is to be late/slow etc. I don't fully understand the complicated ending. My reading is that it means "Okureba [sou] shi-nagara" which would be something like "if late nevertheless", but I cannot be conclusive.
---
---

This page is brought to you by Team Ghiblink.