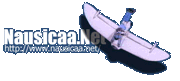 ---
|| Main | Mailing List | Films | Search | Ghiblink | Feedback ||


Gedo Senki
(Tales from Earthsea)
Goro Miyazaki's Blog Translation (Page 110)
27th June 2006
Number 110 - Worries I Can't Shake Off
When I received the schedule for the interviews and nationwide cinema tour following tomorrow's first preview, I was taken aback at how overcrowded the schedule was.
If you say that that is the Director's job, you would be right - and I'm really grateful for being interviewed - but honestly I'm speechless.
Nevertheless, I said to myself that if I want lots of people to come and see the film, I have to do my best now.
But, there is one thing that worries me. The questions I have been asked in interviews have focused heavily on the relationship between how I became a director and my father the director Hayao Miyazaki.
Obviously this was before the film was finished, and there wasn't a lot of information about the contents of the film, so the reporters interviewing me didn't have a lot of other questions to ask. But the father and son questions have continued for so long that, by now, I've really become fed up with them. Which is my unfeigned state of mind at the moment.
The other day, for that reason,
I refused to co-operate with a special program for a TV station... From now, various previews will start all over the place, and if possible, I would like to ask that the father/son topic to be left at what I have already written in this blog, and that the questions take a different direction.
I write this, but on the other hand there is a different worry too. That is, if I'm asked about the content of the film, I'm worried about whether I'll be able to give a clear answer.
Because it's something that I've created myself, the questions of what it is, what I was thinking, what I was aiming for, why I chose to represent the story in this form; I have the feeling that I still haven't sorted these things out myself.
But what I always think is that it is really embarrassing to explain something that you've created yourself, and really difficult. That's what I always feel when I see a creator finally explaining their work.
This is the reason why Producer Suzuki always says to me "Goro, you leave too much out of your explanations!" When I think about this, I start feeling blue again...
---
---

This page is brought to you by Team Ghiblink.