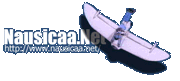 ---
|| Main | Mailing List | Films | Search | Ghiblink | Feedback ||


Gedo Senki
(Tales from Earthsea)
Goro Miyazaki's Blog Translation (Page 109)
26th June 2006
Number 109 - Empty
This morning when I got into the studio[1] a lot of people called out to me "How's your cold? Is it any better?".
'Why does everybody know about my cold?' I thought, but the other day I wrote, "I've caught a cold", in this blog. I'm sorry for causing people to worry.
But it did make me aware once again of the fact that a lot of people in the studio read the Director's Blog.
Until the first screening on Wednesday, the day after tomorrow, I am simply in "wait" mode. Today I cleaned up the area around my desk, and carried out cardboard boxes, so that I can empty my desk and hand it over at any time.
Once the area around my desk is empty, I have even less to do. It's a really unsettling feeling.
---
Translator's Notes
[1]: Ghibli now, not the recording studio any more.
---
---

This page is brought to you by Team Ghiblink.