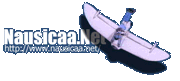 ---
|| Main | Mailing List | Films | Search | Ghiblink | Feedback ||


What's New? -- 1995
Updates to the Miyazaki Web during 1995
To 1996's changes.

---

In late 1995, WADA Mitsuhiro wrote about

The "Dear Mr. Hayao Miyazaki" letterwriting campaign

---

April 23, 1995

Added instructions on how to access Nifty-Serve (Japanese version of Compuserve): Introduction by ITOU, Hikaru: QFG03675@niftyserve.or.jp

On Sun, 9 Apr 1995, Brad Lucido wrote:

Mimi o Sumaseba to debut in July 1995
The exact date has yet to be decided. All media in Japan that mention it that I have seen say _Coming in July_ with no date to go with it. The article in the March issue of Animage is really great for anyone who hasn't seen it yet.

---

On Thu, 26 Jan 1995 17:29:16, Jefery Roberts wrote:

Ponpoko in L.A.
Heisei Tanuki Gassen Ponpoko, last summer's Studio Ghibli theatrical release and Japan's nomination for this year's best foreign picture Oscar, directed by Isao Takahata, will be shown at 8:00 P.M. on Thursday, February 2, 1995, at the Writer's Guild, 135 S. Doheny (1/2 block south of Wilshire) in Beverly Hills. It is being shown as a benefit for the victims of the Kobe earthquake. Admission is free, but a donation is requested. They are not taking reservations, just show up at the door before the showing.

On Fri, 20 Jan 1995, Trish Ledoux wrote:

"PONPOKO" TO WIN ACADEMY AWARD FOR "BEST FOREIGN FILM"...?
According to the February issue of ANIMAGE, Miyazaki/Takahata's HEISEI TANUKI GASSEN PONPOKO has been chosen as Japan's entry for the "Best Foreign Film" category for this year's Academy Awards.
As I understand it, each country may submit one film for consideration each year. Look for an official announcement on the nomination on February 14.
---

This page is brought to you by Team Ghiblink.