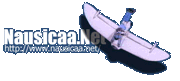 ---
|| Main | Mailing List | Films | Search | Ghiblink | Feedback ||




Mimi wo Sumaseba
(Whisper of the Heart)


1). Review in The Japan Times (7/11/95)
First posted to Nausicaa Mailing List by Atsushi Fukumoto, 7/16/95
Miyazaki Does Disney One Better by Mark Schilling
Like Disney, Hayao Miyazaki has become a brand name whose animated films have an appeal that crosses age boundaries. Studio Ghibli, founded by Miyazaki and longtime collaborator Isao Takahata in 1985, has made several of the biggest domestic hits of recent year including "Tonari no Totoro (My Neighbor Totoro)" in 1988, "Majo no Takkyubin (The Witch's Delivery Service)" in 1989 and "Kurenai no Buta (Porco Rosso)" in 1992. In the process, Studio Ghibli films have gone head-to-head with Disney rivals at the box office four times --- most recently with "The Lion King" --- and beaten them every time.
Miyazaki's films, like Disney's "prince and princess" romances, have formulaic elements that identify them as surely as a brand logo. Again and again we see a spunky-but-sensitive young heroine on the brink of adolescence, a feline familiar (in "Totoro," memorably, the cat took the form of a four-legged bus), vaguely European settings created by a romantic free-associating sensibility (see Ebisu's Yebisu Garden Place for an example in red brick and mortar), and, most distinctively of all, flying scenes animated with a breathtaking dynamism and infectious joy (Miyazaki is an aviation buff).
Also like Disney, the quality of Miyazaki's films sets them apart; in their attention to detail, their charming blend of fantasy and reality, and their depth and complexity of characterizations, they leave most other domestic *anime* (animated films) far, far behind.
They may suffer from a lack of narrative focus and an excess of *shoojo manga* (girls' comic book) sentiment, but millions of Japanese movie fans, as Isao Takahata once pointed out to me, like busy narrative lines while not being overly concerned about coherence.
Shoojo manga, as we know, are a major domestic industry. The folks at Ghibli know exactly what they're doing.
The latest film by Miyazaki and first-time director Yoshinobu Kondo, "Mimi o Sumaseba (Whisper of the Heart)," is a typical Ghibli product in many ways. The heroine, Suzuku Tsukishima (Yuko Honda) is a 14-year-old girl approaching the last summer of junior high school. Energetic and free-spirited, a voracious reader, she harbors ambitions to write.
Though she is willing to share her efforts with her best friend (including new lyrics to that *karaoke* standard, "Country Roads") at home she climbs into a shell and shuts out her parents and nagging older sister.
It's not that Mom and Dad don't care, but Mom is busy taking university classes and Dad, when not working at a local library, is busy writing books about local history that never sell. They can't spare the time to find out what the girl in the shell is thinking (Though Dad, an insightful if eccentric sort, can usually guess).
Suzuku is thus something of a Belle in embryo, but instead of a Beast, she meets a boy named Seiji (Kazuo Takahashi) whose blunt talk upsets and annoys her ("You'd better not use that line about a `concrete road,`" he advises her). By following a mysterious cat home on the train (yes, on the train --- the cat is such an experienced rider that it sits on the seat and cat naps), she also encounters a kindly old man who runs an antique shop stocked with wonderful treasures, including a cat statuette with strange, glittering eyes. The old man, she soon learns, is Seiji's grandfather. She also find out that Seiji harbors a secret ambition of his own: to learn to make violins in Cremona, Italy.
The story is almost daringly simple; Suzuku and Seiji quarrel until they fall in love. (We know that they are meant for each other when, early in the film, Suzuku realizes that every book she has borrowed from the school library has also been borrowed by Seiji. There are no disapproving parents, jealous rivals or evil spells to overcome.
There is only a trial of sorts; determined to emulate Seiji, who is already working to realize his dreams, Suzuku decides to write a fantasy in which the old man's prize --- the cat statuette --- comes to life. Will she win the approbation of her *ojiisan*, or learn that she is just another talentless wannabe?
This is not much on which to hang a full-length film, but plot has never been the real point of Miyazaki's movies anyway. What he and director Kondo give us is more of the usual Miyazaki magic, brought even more brilliantly to life in a down-to-earth setting. (Though the old man's barnlike atelier could have come from the neo-Mediterranean port of "Majo no Takyubin.")
The animators delineate Suzuku's character and tell us the story of her discovery of love and life though an accretion of small, vivid details, including the way she fumbles for the alarm clock and keeps forgetting her things. There are also moments, such as Suzuku's pensive walk down a shaded street, with the light and shadow playing on her slender form, that are poignant in their celebration of her youth, with all its promise, hope and uncertainty.
A Disney film, forever hurrying on to the next plot point, would usually spare little time for such seemingly extraneous details and moments, but they are the very soul of "Mimi o Sumaseba."
Accompanying the main feature is a Ghibli-produced short title "On Your Mark." Originally conceived as a music video for a Chage & Aska song of the same title, it is an sf fantasy as busy and extroverted as "Mimi" is simple and introspective. Filmed entirely without dialogue, at a cost of Y100 million, it is Ghibli's attempt to push the envelope of animation, much the way Katsuhiro Otomo did with the sf classic "Akira."
In conveying the exhilaration of speed, the exuberance of flight and the techno-grandeur of its futuristic world, it shows us what Ghibli could do if it ever decided to take on the Hollywood entertainment colossus head-to-head. Awesome.
Animator loses sight of utopia by Mitsunori Toda; Daily Yomiuri Staff Writer
The euphoric era of the bubble economy is over and society seems to be headed for an era of apathy and uncertainty. Reflecting these turbulent times, animator Hayao Miyazaki dispenses with fairytale convention for his stories.
His upcoming film, "Mimi o Sumaseba," (If You Strain Your Ears) based on an Aoi Hiiragi cartoon of the same title, to be released in July, will highlight what adults have lost from their lives and what the younger generation need--love.
Miyazaki, who will serve as scriptwriter and producer on the work, says the film is not just another superficial love story.
The story begins with heroine Shizuku, who loves to read, noticing that a boy, Seiji Amazawa, has borrowed almost all the books she took out from a library. After graduating from middle school, Shizuku happens to meet a boy who has a dream of becoming a violin maker in Italy, and discovers that he is Amazawa.
"I tried to focus on how the 15-year-old girl has grown up, and the heroine finally will reach a point where she can understand what she is through experiencing pure love," Miyazaki says.
"Pure love, or romantic love, is something I never experienced in my busy younger days, although I dreamed a lot about it. I believe those who enjoyed a sweet romance in their early days would not dare to do this kind of job (animated film production)." Miyazaki says individuality is a sort of ability that can be created through hard work.
"In my job, it takes time and patience before an animator becomes independent or full-fledged. While completing a certain volume of works, you will eventually notice your potential ability and that is, I would say, individuality," he says.
"So I think it is wrong that the current education system and a society that gives so much importance to academic background kills individuality of young people." Discover your potential ability so that you can do a better job than others, is the message Miyazaki wants to convey to the younger generation.
"Everything Japan has long been proud of, such as the lifetime employment system and flawless labor- management system, have become cracked from the inside," Miyazaki says. "Many fathers of dankai-no-sedai (1st baby boomers aged 45 to 48) have lost their confidence and come to notice that graduating from a prestigious university and working for a big company doesn't always lead to happiness in their lives as they toil for their families."
Miyazaki, 54, first caught the hearts of youngsters with his "Nausicaa of the Valley of the Wind" in 1982. In last year's finale to that saga, which has spanned 13 years, Miyazaki, who admits he once embraced the idealistic view that human beings could eventually find utopia, let his heroine Nausicaa face up to difficulties ahead rather than live in utopia.
The work stresses the importance of symbiosis between human beings and other living creatures. Nausicaa, the beautiful queen of a small country in a nuclear war-devastated world, keeps fighting for her nation in search of a bright future for humans.
A series of historic events such as the collapse of the Soviet Union and former communist nations in Eastern Europe, says Miyazaki, have washed away any idealism, changed his view toward society.
But Miyazaki's attitude toward his life is not pessimistic. The energetic animator can rather be described as an enlightened fatalist. "For example, environmental issues have long been a major problem for humans. But nobody has yet found proper answers to solve those issues because human beings commit grave sins against other living creatures and their natural surroundings. In that sense, we are destined to live our lives while being baffled by various difficulties," Miyazaki says.
Miyazaki draws on his love of animation
Popular animation director Hayao Miyazaki is drawing on a cartoon story to produce a new animation film about female middle school students. Set for release this summer, Mimi o Sumaseba (If You Strain Your Ears)--based on a Aoi Hiiragi cartoon of the same name--is a love story. "I think cartoons about girls are different, because these stories tend to develop in imaginary worlds. We couldn't make it realistic or it would come across as being superficial," Miyazaki said.
"I've been thinking for a long time about making a film based on a cartoon for girls. I was worried about being able to convey the feelings hidden within the story."
Added the producer-director: "Besides, we had never before depicted a love story. It's a challenge to directly portray genuine love."
Except for one small scene, Miyazaki is not actually directing this animated film. That job goes to Yoshifumi Kondo, who worked under Miyazaki on such animations as Majo no Takkyubin and Omoide Poroporo.
"Kondo is not young as a new director; he's 45 years old, but he has wanted to make a love story like this for a long time. I think he is the right person to direct this project," Miyazaki said.
However, Miyazaki said he himself would direct one scene--the one in which a girl uses her imagination to fly in the air.
" The film's heroine, a student in the third grade of middle school, loves to read. She notices that someone named Seiji Amazawa has taken out almost every book in the library. Then, she meets a boy who is going to Italy to become a violinist, and discovers he is Amazawa.
Miyazaki deviated from the cartoon by making the boy a violinist rather than a painter. "I don't think the only way to live is to go to a good school. It's OK to become a craftsman who makes things. I think today's society, which measures the worth of people by the school they attended, is wrong," he said.
The film is set in a residential suburb of Tokyo, but despite Miyazaki's contention that he "doesn't like convenience stores and the like at night," the town bristles with utility poles.
"The poles are ugly when drawn, but many people see this kind of scene as one that is the most familiar to their own hometowns," he said. "I wanted to depict these kinds of ordinary things in the animation."
The latest technology, such as computer-aided digital composition and Dolby noise reduction, have also been incorporated into the production, which is budgeted at 1.2 billion yen.
"After the bursting of the bubble economy, we entered a more simple world. Love people without being too shy. State clearly the things that one likes about those special people. I would like young people to learn the importance of these kinds of things," Miyazaki said.
Mimi o Sumaseba is set for release in mid-July.
The New York Times (9/17/95) ("Mimi" mentioned)
Japan, a Superpower Among Superheroes by ANDREW POLLACK
HAYAO MIYAZAKI COULD teach Walt Disney a thing or two. Every year, Mr. Miyazaki and his collaborators produce an animated movie that is breathtaking for its lush, detailed scenery and its subtle use of colors. Almost every year, the movie is among the top hits in Japan. And every time a Miyazaki film goes head to head with a Disney animated feature at the box office in Japan, the Miyazaki film wins. For all his success in Japan, however, Mr. Miyazaki is barely known to audiences elsewhere. But that probably won't be for long. Japanese animation is starting to sweep through the world, becoming the nation's first big pop culture export.
Animation, which is known in Japan as anime (pronounced AH-nee-may), is diverse. At one extreme is Mr. Miyazaki, who thinks that even Disney movies lack "decency." He produces sugary stories like "My Neighbor Totoro," about two young girls who are befriended by a mythical creature who flies around on a living bus shaped like a cat. About 450,000 copies of the video have been distributed in the United States since July 1994, marking Mr. Miyazaki's first success with American audiences.
At the other extreme might be "Urotsuki Doji: Legend of the Overfiend," an adults-only cartoon that was a popular midnight movie in places like the Angelika Theater in New York. It features grotesque monsters from another world forcing bizarre sex on cute teen-age earthlings.
In between is a whole panoply of space warriors, saucy goddesses, hard-nosed athletes, klutzy teen-agers who are transformed into superheroes and a martial arts master who changes into a woman when splashed with cold water. And robots -- oh, so many gigantic, fighting robots! For all the success of Japan as an exporter of cars and camcorders, its music, movies, television shows and books, with a few exceptions, do not sell well abroad.
But in cartoons, and in the closely related comic books, Japan is a superpower. Consider this: Last year, more than half of the box-office revenues of Japan's movie industry came from animation. More than 10 percent of all the books and magazines published in Japan are comics. And according to one survey, more than 60 percent of the hours of television programming exported from Japan are cartoons.
Japanese cartoons like Dragon Ball Z are hits in Europe, especially in France and Spain. In Vietnam, children line up every Friday to buy the latest installment of the comic book Doraemon, about a robotic cat who draws magical devices from his kangaroolike pouch to help a hapless schoolboy.
Even in the United States, where there is more local competition, Japanese animation, or Japanimation, has developed a cult following that is growing.
While there have been some Japanese cartoons on American television since the early 1960's, like Astro Boy, Speed Racer and Star Blazers, the recent popularity of anime results from video, which has allowed Japan's prolific studios to reach viewers directly.
NUMEROUS American colleges have anime clubs, and there are conventions for American fans. But the place fanatics really meet is on the Internet computer network. For instance, Hitoshi Doi's Anime Page (http:// www.tcp.com/doi/anime2.html) offers synopses of almost every episode of many cartoon series.
On television, too, there is a new interest in Japanese cartoons, generated by the phenomenal success of the Japanese-derived "Mighty Morphin Power Rangers." The show, while not actually a cartoon, is very cartoonlike.
Last Monday, a half-hour cartoon show called "Sailor Moon" made its debut on American television (in New York on Channel 11 at 6:30 A.M., Mondays through Fridays). It is about a clumsy crybaby of a junior high school girl who is transformed into a leggy superheroine. The program has been a hit in France. In Japan, it has set off a merchandising mania of dolls, scepters and other paraphernalia far in excess of anything generated here by the Power Rangers.
Japanese comics, known as manga, are also appearing in English in the United States. Studio Proteus, a San Francisco manga importer and translator, reports that the most popular include "Oh My Goddess," about a college student living with three goddesses, and "Domu (A Child's Dream)," about psychic warfare between an evil man and a young girl.
To be sure, Mickey Mouse need not start quaking in his shoes just yet. Disney can sell more than 20 million videotapes of one of its hit movies. With anime, "to sell 20,000 makes it a best seller," said John O'Donnell, managing director of Central Park Media, a New York-based anime distributor.
The spread of Japanese cartoons and comics is not always welcome. Critics say they contain too much sex and violence or are crassly aimed at selling toys. Many featured shapely yet innocent-looking teen-age girls, the object of many Japanese men's fantasies. In Spain, some Japanese cartoons were taken off the air after protests about their violence. Central Park Media voluntarily rates its videos.
In Japan, the police occasionally report crimes that were influenced by comics and cartoons, and some comics cannot be sold to minors. But the overall crime rate here is extremely low, so there has not been that much protest. Still, even Japan has its limits. A manga called "Rape Man," featuring a hero who commits rape for hire, was discontinued after protests from women's groups. One reason Japanese comics and animation get away with sex and violence is that they are not just for children. Some of the same blue-suited businessmen who have made Japan into an economic superpower commute to work on the subways reading comic books, some as thick as telephone books and many sexually explicit.
Comics are a mainstream form of communication here, sold in most bookstores and dealing with more than superheroes. Just how fertile a genre it is can be seen by visiting Comic Station Shibuya, a manga specialty store in Tokyo that contains 120,000 comic books and magazines, almost all wrapped in cellophane to keep them clean and prevent reading without paying.
Among the store's recent best sellers are "Mind Assassin," about a psychiatrist who uses ESP to cure people, and "Gallery Fake," about a dealer in fake antiques. Popular among women are manga featuring love and sex between homosexual men.
The most successful manga artists, like Rumiko Takahashi, can become fabulously wealthy. Some publish their first drawings as teen-agers and, despite their tender age, are referred to as "sensei," meaning "master" or "teacher." The productive comic industry provides the grist for most animations. If comics fulfill part of the role played by novels in the United States, animation is the counterpart of American movies. Young animators here say they are influenced by movies like "Blade Runner" and "Terminator 2" more than by American cartoons.
Japan's anemic movie industry could not keep up with Hollywood's big-budget special-effects films, said Masahiro Haraguchi, a contributing editor of Animage magazine. "So they increasingly turned to animation, where anything is possible," he said.
Admirers say the stories in manga and anime are more complex than in American comics and cartoons. In Japan, superheroes have frailties and major characters can die.
Technology is a big theme, portrayed both positively and negatively. Life after a nuclear holocaust is a common theme, as exemplified by Katsuhiro Otomo's cyberpunk "Akira," probably the best known anime outside Japan.
The scenery in anime sometimes looks as realistic as a photograph, exhibiting the kind of attention to detail found in other Japanese arts like flower arranging. The exception to the realism is in the characters' faces, with their oversize eyes. In American cartoons, facial expressions and mouth movements are fluid. In Japan, partly to save money, there is less focus on faces, resulting in jerkier movements.
"I've seen shots where you look at a glass with ice cubes while the two characters talk," said Lenord Robinson, director of animation for Warner Brothers. "But we in the U.S. are in a hurry to get to the action."
Japan has had a long tradition of drawing pictures. Wood block prints, now considered fine art, were actually used for storytelling several hundred years ago. But the modern form of comics and animation was created in the two decades after World War II by Osamu Tezuka, who is known as the Walt Disney of Japan. Mr. Tezuka pioneered novel-like stories in manga and created Astro Boy, among other characters.
Mr. Tezuka, who died in 1989, is so revered here that a museum was built in his honor. More than 40 Japanese cartoonists signed a letter of protest to Disney last year complaining that "The Lion King" seemed to borrow from Tezuka's "Jungle Emperor," which was shown on American television in 1966 as "Kimba, the White Lion." In both stories the father lion is killed and the son is sent into exile and later returns to recapture the throne. In both stories the lion prince is aided by a wise baboon and a talkative bird while the evil lion has hyenas as henchmen. But Disney defended its work as original. And Tezuka Production, the company that controls the rights to the late author's works, said Mr. Tezuka was an avid Disney fan who would have been flattered if his work had inspired "The Lion King."
THE NEW KINGS OF JAPANESE animation are Mr. Miyazaki and his 100-employee company, Studio Ghibli. "If you had a Top 10 list, they would fill all the slots," said Emiko Okada, an animation critic.
The son of an aviation company executive, Mr. Miyazaki started his career at Toei Animation, but chafed at life in the big company. He left for a smaller company and then, in 1985, founded Ghibli.
His movies are often simple and heartwarming. His latest movie, " Whisper of the Heart, " is a love story about a bookwormish teen-age girl and a boy who wants to be a violin maker. "I don't want to depict the world as someplace not worth living in," Mr. Miyazaki said.
At 54, with graying hair, he criticizes most other Japanese animations as being technically poor or too commercial. He also says that Disney has strayed from its formerly pure stories. "When I look at 'Beauty and the Beast,' it reminds me of a psychiatric patient and his counselor," he said.
By the same token, however, some people say that Mr. Miyazaki's stories lack a certain grittiness found in other animations. "His worlds have become just too nostalgic," said Mamoru Oshii, 44, who is considered a leader of the next generation of animators. His best-known work is "Patlabor," about a robot police force in the future.
Despite what looks like the animation industry's vibrant success, there are signs of trouble. A recent edition of Comic Box, a magazine about the manga business, featured the headline "Manga Is Dead?" Many animations are made on a shoestring budget, and underpaid animators are defecting to the more lucrative video-game industry.
One solution is financing from abroad. Mr. Oshii's newest production, "Ghost in the Shell," is receiving money from Manga Entertainment, a distributor of manga and anime, and will be released simultaneously in English and Japanese late this year.
One can only guess what it is about. The advertising poster shows a naked, gun-toting woman with wires attached to her. "People love machines in 2029 A.D.," the poster says. "Who are you? Who slips into my robot body and whispers to my ghost?"
One thing is clear. Even if the manga and anime industries are slowing down, there is a huge reservoir of material still to be exploited overseas. The invasion of the giant robots, sex-crazed demons and voluptuous yet vulnerable co-eds is just beginning.
Variety, May 6, 1996 - May 12, 1996
[cut]
Foreign films continued to dominate screens, with the box office share of Japanese films plunging from 45.11% in 1994 to 35.78% in 1995.
"Die Hard With a Vengeance" hit hardest in 1995 with a $ 50 million gross, followed by "Speed" and Forrest Gump." Top domestic titles were animated " Whisper of the Heart" with $ 18.5 million and "Godzilla vs. Space Godzilla."
[cut]
---

This page is brought to you by Team Ghiblink.