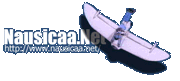 ---
|| Main | Mailing List | Films | Search | Ghiblink | Feedback ||



Nausicaa.net's "Subtitled Mononoke" E-mail Poll

Nausicaa.net has learned that the upcoming Princess Mononoke DVD, to be released in North America on August 29, 2000, will not include the original Japanese language track.

Buena Vista says...

Our source in Buena Vista Home Entertainment informed us that this is at the request of the Japanese office of Buena Vista. The Japanese office is concerned that a foreign-released DVD containing the Japanese language track will allow for the importation of such a DVD to Japan, which could seriously hurt the local sales of a future release of the Mononoke Hime (Princess Mononoke) DVD in the Japanese market. The Japanese office does not think the region-encoding feature of DVD will significantly alleviate this importation problem.

We have been informed that, if there is sufficient interest, Buena Vista might release the sell-through Princess Mononoke VHS in both an English-dubbed version and a widescreen version in Japanese with English subtitles (as they did with Kiki's Delivery Service).

E-mail Poll

We were scheduled to have a private, informal gathering on Friday, June 30, 2000, with a Buena Vista representative who is involved in the video release of Princess Mononoke. In advance of this meeting, on Tuesday, June 27, 2000 we launched an E-mail poll to see how many people were interested in a release, either in the VHS or DVD format, of Princess Mononoke in the original Japanese with English subtitles. With help from word-of-mouth referral by fans, we received more than 1000 E-mails that had arrived by 11pm PDT on June 28, 2000 (a further 500 arrived after that date and were not included), and we have presented all these E-mails to the representative.

Findings

We have also presented a cover letter that summarized the additional comments we received in many of the E-mails about the video release. Here are some of the points raised in the cover letter:
Almost all of the fans who responded were dismayed that Japanese dialogue and English subtitles would not be included on either the DVD or the VHS versions to be released on August 29.
Fans of Studio Ghibli are passionate and loyal consumers who are very respectful of the works of Studio Ghibli and plan to purchase each film as it is released, provided that a Japanese language version with English subtitles are included.
Many fans have cancelled preorders for the DVD.
Many fans had planned to purchase multiple copies of the VHS or DVD for friends and family.
Some fans feel that the true reason for not including the Japanese language track was to ensure higher profits when the Region 2 / Japanese disc is released at a higher MSRP in Japan.
Several fans pointed out that pirated DVDs of Studio Ghibli films have already been released without region codes and are easily available in Asia and on Internet auction sites without obvious action taken against them by Disney's legal department.
While fans are encouraged by the possibility of a subtitled VHS release, more fans now deem VHS to be of intolerable quality relative to DVD and would therefore prefer to purchase a DVD with subtitles.
Because fans generally understand that it is now difficult or impossible to affect the current production run of unsubtitled DVDs, we look forward to the possibility of a future "special edition" Princess Mononoke DVD that will include the Japanese language track, English subtitles, and perhaps production notes and a featurette, too - even if it costs more than the English/French only DVD.
Respondents live all across the United States and Canada. Many also reside overseas.
Respondents are happy with the anamorphic letterbox feature.
Respondents greatly prefer DVD to VHS, and in particular, subtitled DVD to subtitled VHS.
Respondents would in some cases purchase the English dubbed DVD now to encourage a subtitled release later.
Respondents who make purchase decisions for video stores are well aware of their customers' preferences and will order fewer copies of the DVD and VHS if they do not contain the Japanese dialogue with English subtitles.
Acknowledgement
We want to thank all the fans who voiced their opinions. We also want to thank the Buena Vista representative for being willing to listen to the fans' voices.
Now that the poll has ended, what can I do now to make my voice heard?
---

This page is brought to you by Team Ghiblink.