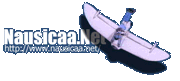 ---
|| Main | Mailing List | Films | Search | Ghiblink | Feedback ||





Mononoke Hime
(Princess Mononoke)



Mononoke Hime wa koushite umareta
(How Mononoke Hime Was Born):
Table of Contents

Mononoke Hime wa koushite umareta (How Mononoke Hime Was Born), also known as The Making of Mononoke Hime, is a three-tape VHS video boxed set (total length 6 hours 40 minutes) released in Japan at the end of 1997. Please see the Mononoke Availability page for information on how to order the video. We provide this extended summary in English for the benefit of the many non-Japanese-speaking viewers who are interested in the genesis of the film.
Note: Numbers within brackets represent the approximate time index of a topic within the respective tape, expressed as [Hours:Minutes:Seconds].
---
Summary by Mikiyo HATTORI and Tom WILKES; HTML design by Marc GREGORY
Disclaimer:
©1997 Nibariki, TNDG, and/or other appropriate copyright holders.
Translated and summarized without permission for personal entertainment purposes only. The quotations contained in this summary are not, by any means, accurate word for word translations, and the translators are solely responsible for any mistranslation or misunderstanding.
---

This page is brought to you by Team Ghiblink.