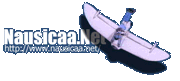 ---
|| Main | Mailing List | Films | Search | Ghiblink | Feedback ||





Mononoke Hime
(Princess Mononoke)



Mononoke Hime wa koushite umareta
(How Mononoke Hime Was Born):
Part 1 - Kami no ue no dorama (A Drama On Paper)

---
Introduction
[Time 0:00:30]
"The people making the movie I want to create, crawling on their knees towards the maximum limit of the possible -- that entire process is what I call 'creating a movie.'" -- Hayao MIYAZAKI
1997/10/30: Four months after the completion of the movie Mononoke Hime, Film Director Hayao MIYAZAKI is still immersed in his own confusion, and is asking himself about what he really described in his latest movie and what he really created. Mononoke Hime is a movie describing a restless journey of two cursed young people -- a boy and girl -- from their initial encounter, to their search for their own way of living in the severe real world.
Miyazaki says, "I wanted to make a movie which addresses the most difficult and serious issues which currently we are facing in the 20th century, especially for young people in Japan. I really did not want to make a simple, cheerful love story, which ignores and avoids confrontations with the reality of our serious, complicated problems. I believe that this is a propaganda movie, because I wanted to send my message and thoughts to society. However, I did not intend to convey simple and irritating messages, such as 'Let's save Nature.' I am sure that we -- all of us -- already know such things. I hope that my audience will think hard and deeply as the movie unfolds; and possibly, Mononoke Hime can inspire the young audience. That is my goal and ambition in making this movie."
---

"A movie gropes for something, and so does a documentary." -- Toshiro URATANI
[Time 0:02:30]

---
Higashi-Koganei train station, Tokyo: We see the documentary maker, Toshiro URATANI, walking to Studio Ghibli while carrying his "tiny camera."
Uratani says, "Before starting this project -- filming a documentary about the making of Mononoke Hime -- I did not know anything about how to make an animation film, although I was an established film director. Therefore, I wanted to use this disadvantage as my tool for conducting interviews and filming daily activities at Studio Ghibli. My intuition as a film director told me that the daily routine at Ghibli contains secret essences and the sources of success of Miyazaki-san and Ghibli as an animation film director and an animation film factory, respectively. In pursuit of this mission, I went to Ghibli as often as possible, and filmed their lives without destroying the air and atmosphere of normal work there. Eventually, we obtained video footage totaling 300 hours over the past two years.
"Whenever we went to Ghibli, Miyazaki-san said to us, 'You will not find any interesting stuff or excitement by filming the studio, because nothing is really happening here. You will see the same scenes all the time.' Soon, we understood that this comment was Miyazaki-san's own way of expressing his encouragement of our work, and of our asking questions associated with the project and Ghibli. In fact, whenever we asked him questions, Miyazaki-san never showed any hesitation in answering our questions; and furthermore, he even gave us further explanations. Indeed, the studio is an animation making factory, and all staff there have been sitting at their own desks and drawing scenes every day, regardless of any change outside of the building; Spring, the rainy season, Summer, Fall, and Winter have passed, but we have realized that the real excitement and action is occurring on paper. Miyazaki-san breathes life into the characters, and creates his own fantasy world on his papers. We have learned that making an animation film is a result of detailed planning, and carrying out the precise and careful execution of those plans."
Eventually, the movie Mononoke Hime became a social phenomena in Japan; it is no longer simply a "movie." Even Director Miyazaki himself cannot organize and digest all of the events over the last two years, or their consequences. In this documentary, we will follow all of the steps and aspects of Miyazaki, Ghibli, and many others as they participate in the activities and events during the process of making Mononoke Hime.
---
Kikaku to kousou (Project Planning and Idea)
Harukana michinori (A Long Journey)
[Time 0:05:25]
All projects at Ghibli start from a daily conversation between Producer Toshio SUZUKI and Director Miyazaki. Since they met for the first time, Suzuki had known Miyazaki's deep desire to make a Japanese historical adventure animation film. After the completion of Mimi o sumaseba, Miyazaki had two options for his next project. One was a historical drama; the other was Kemushi no Boro (Caterpillar Boro), which describes the adventurous journey of a caterpillar, Boro, from one tree to the next tree along a street. The basic concept of the story is very similar to that of Tonari no Totoro. Suzuki wanted Miyazaki to pursue his long-time dream of making a Japanese historical animation drama; therefore, Suzuki successfully convinced Miyazaki-san with three reasons:
Miyazaki's own age had reached almost the last chance for him to be young enough to spend all necessary energy to create an action movie. Making an action movie is known among movie producers and directors as a very demanding and high energy consuming project.
All staff at Ghibli had become technically mature within their own capacities. Many of them were 30 years old at the time, which is considered to be a golden age for artists to produce their best performance.
Ghibli had enough money to spend for an expensive new project at that time.
Miyazaki started concept development for his new Japanese historical drama based upon his 1980 story called Mononoke Hime. The imageboards for this version of the story were released as an illustrated book (in Japanese) in 1993.
The old (1980) version of Mononoke Hime is a typical Japanese Samurai story, which is represented by the famous movies of Akira KUROSAWA. Main characters in the old version include a big yamaneko (mountain cat), which becomes a "Mononoke"; and the third daughter of a warrior, whose name is San no Hime (the Third Princess). (The name of San, the title character of the new version of Mononoke Hime, is derived from the name San no Hime in the old version.) However, one of the important ideas of the old version -- that the characters fly on clouds -- was already used in Totoro. Thus, Miyazaki needed to come up with something new.
Basically, Miyazaki could not compose a new drama from the story of the old version. The reason was that the concept of the old version was simply too old; at that time, the idea was already fourteen years old. Meanwhile, society had changed, and many of the themes and motifs presented in the old story were no longer applicable to current society. Furthermore, typical Samurai movies have had a long established image of how relationships work between Samurai and Noumin (farmers). There was very little room for Miyazaki to use his creativity to add anything new to this domain. He struggled to think hard about what he could do to make an interesting and satisfying drama within the given situation.
During this struggle, Miyazaki was given a new project, On Your Mark. As if he had forgotten about his new historical drama, Miyazaki concentrated on the work for On Your Mark. Eventually, it proved to be a very good and needed break from his struggle as an artist.
Afterwards, Miyazaki came to the conclusion that he must dump his old version completely, and start development of a new concept from scratch. As Suzuki recalls, Miyazaki told Suzuki with a big smile on his face that he would create a new original story, taking his inspiration from the virgin forests of Yakushima island [see also some maps and photographs of Yakushima]. Yakushima's forests earlier had inspired Miyazaki to create the concept of the Fukai (a spoiled sea) in Kaze no tani no Naushika. In Miyazaki's own words, "Let's make a business with Yakushima once again."
---

Shuna no tabi and Mononoke Hime: A comparison
[Time 0:09:30]

---
At that moment, Miyazaki must have been thinking about a new story based upon his manga Shuna no tabi. A brief summary of the story of Shuna no tabi is as follows: To save his people from their poverty, Shuna, the young prince of a small country, starts a lonely journey to the West riding Yakkuru, his elk-like steed, in order to find a magic golden seed. Along the way, Shuna meets an elderly man (who looks like the character Jiko-Bou in the new version of Mononoke Hime) and obtains from him the directions to his final destination. He also meets a slave girl, Thea, and rescues her and her younger sister from the slave-traders. After entering the land of the gods to search for the golden seed, Shuna experiences many difficulties, and collapses in total exhaustion. As a result, he loses his memory. Thea later discovers Shuna wandering aimlessly; in time, Thea helps Shuna along to recovery.
Although the reasons the heroes of the two stories start their journeys are different, the main frameworks of the stories of Shuna no tabi and the new version of Mononoke Hime are very similar.
---

Mononoke Hime begins to take shape
[Time 0:10:15]

---
Miyazaki says: "To tell the truth, I did not know how to compose the new drama of Mononoke Hime. It took me a while. Yes, I had accumulated too many issues and thoughts -- at least three or four big ones -- that I really wanted to address in the story. On top of that, while I am drawing a story, I often discover in the outcome on my papers something different from my original thoughts. As usual while creating a new story, I came down with neurotic gastritis. I believe that my neurotic gastritis can be classified as a job related disease."
From his new imageboards, we can easily trace the footsteps of his struggles to create the framework of the new drama. We can even find a version with a happy ending, such as, when Shishigami kisses Moro's wound, the bullet comes out of Moro's body and she recovers. There are many different versions of synopses written on the douga papers. For example: Ki (rise) - kill Shishigami; Shou (consequence) - a drama in Tatara-Ba; Ten (change) - war; and Ketsu (conclusion) - revival of Shishigami.
Early versions of character sketches are shown [see the Character Guide for descriptions of the characters]:
Ashitaka - We can see especially detailed descriptions of his clothes, hood, and weapons.
San - Described as a passionate girl, she prides herself on having been raised by a mountain dog. She could have been a girl with red hair.
Tatari-gami
Kodama - Their faces could have been much more frightening.
Tatara-Ba - Detailed layout description.
Jiko-Bou - In the original idea, he was a leader of iron manufacturing, and had only one eye.
Eboshi, Ishibiya, Samurai - What a novel idea (gunpowder weapons), considering the fact that this drama is set in the Muromachi Era!
Anmin - A Chinese monk, he was originally planned to be one of the main characters.
Shishigami - Almost the same characteristics as in the final outcome in the movie.
---
Keikakusho to shite no E-konte
(A Master Plan On Paper: Continuity Drawings)
[Time 0:13:20]
Miyazaki usually starts drawing his book of E-konte ("continuity drawings") as his replacement of a scenario for a movie. He ordered special E-konte paper for this project. Features of his special paper are:
Larger size frame - Each page contains three enlarged frames, instead of the usual five frames. In the large frame, he can easily draw a long and detailed picture.
Rough front surface - Normally, the back surface of E-konte paper is rough, and the front is smooth. Miyazaki's special paper has a rough front surface, in order to help the weak pressure from his pencil while drawing on it. He has used his right hand too much, and as a result, he suffers from constant pain in his wrist, hand, and fingers.
When the filming of this documentary began in February 1996, not even half of the new original story was completed. The E-konte book starts with a violent fighting scene. For purposes of comparison, firstly, we filmed his E-konte following Miyazaki's own instructions, which are written on the same page.
[The Emishi watchtower scene from the beginning of the movie is shown in two versions: a filmed sequence of black-and-white drawings from the E-konte book, and the final version of the scene as it appears in the movie.]
As one can see from the comparison, the difference between the first black-and-white E-konte film and the final movie is the visible evidence for Studio Ghibli's hard work, and its established powerful reputation as an animation factory.
1996/02/27: Miyazaki gradually draws his E-konte. None of Ghibli's staff, possibly including Miyazaki himself, knows the entire story of the movie on which they are all working. Miyazaki draws E-konte little by little, and asks Animation Director Masashi ANDOU about his opinion of Miyazaki's original idea. Then Miyazaki continues his drawing.
---

Studio Ghibli at work on Mononoke Hime
[Time 0:15:45]

---
The second floor of the Studio Ghibli building is a room for the Animation Department. [Take a virtual tour of Studio Ghibli.] There are about 40 animators there. In the animation room, each animator is concentrating on his or her own assigned drawing work while simultaneously listening to music via headphones. There is no visible correlation among the animators' work -- unlike that of a normal movie filming work environment, where a director controls and orders his staff to execute their roles and tasks under his supervision.
In order to keep the 100-member staff of Studio Ghibli fully aware of the current project, many character sketches with Miyazaki's detailed instructions are displayed on the walls of the studio. For example:
Emishi clothes -- Miyazaki developed his original design based on the native costume of Bhutan.
Arrows -- Ashitaka's arrows have an arrowhead made from black stone (obsidian?), and three feather "wings" or vanes (properly called "fletches;" normally, [Japanese?] arrows have only two fletches).
Swords -- Ashitaka's and Kaya's swords have a special shape called warabite-tou, which can be found only in Touhoku, the northern part of Honshuu (the main island of Japan).
Position of the obi -- Nowadays, almost no young Japanese person knows how to wear kimono properly. The position of the obi (belt) on kimono is not the same as that of the belt on western dress, such as trousers and skirts. Contrary to common sense, only Ashitaka wears his obi on his real waist (expressing his youth and immaturity); other characters, such as the Tatara people, wear their obi in a lower position. Jiko-Bou wears his obi in a very low position on his belly, signifying his age and experience.
The Color Department is located on the first floor of the building. The department has ten staff members, who paint appropriate colors onto the final cels based upon color specifications. (In order to transfer a final Douga ["cleaned-up" animation drawing] onto a cel, a carbon is inserted between the Douga paper and the cel; then the set goes through a trace machine.) For example, we see one of the staff, Minako OOSHIRO, painting the same single color onto 42 different cels for a scene lasting 3.5 seconds. It is very careful and precise work!
All color specifications are determined by discussions between the head of the Color Department, Michiyo YASUDA, and Miyazaki. They have been working together for a long time, dating back to their time with their former employer, Toei Movie Productions; Miyazaki calls Yasuda his "fellow soldier." Her final color specification books for Mononoke Hime comprise 50 volumes with 580 different colors. Her criteria for making color specifications for animations are based mainly on the features of the original materials of the cloth, tools, and other objects in the drawings. Although she must consider the availability of specific colors [such as cloth dyes] in the era in which the drama takes place, she also considers the personalities of the characters, as well as Miyazaki's personal preferences for coloring.
Miyazaki likes using clear and vivid colors. For example, in reality, no Japanese has green hair (at least as an original color). However, San has green hair, because there is a Japanese expression midori no kurokami ("greenish black hair") used to admire beautiful female hair. Other examples include Lady Eboshi's clothes, and her lip color. During the period in which the drama takes place -- the Muromachi Era -- lipstick was so precious that only a very limited number of upper class women could use it. Yet even knowing that fact, Yasuda decided to use a clear and vivid red color for Eboshi's lip color (as if she uses lipstick) to represent Eboshi's personality. Her clothes are also colored in a very fashionable and stylish way, in order to appeal to a young audience. Because both Miyazaki and Yasuda like Eboshi's character and personality, they believe that presenting a beautiful and attractive Eboshi will enhance the fantasy element in the story.
Each color specification comprises a pair of colors, usually a combination of lighter and darker shades of a specific color, in order to represent areas of an object both in light and in shadow. The legends for Yasuda's color specifications resemble a numerical fraction, with two numbers written vertically separated by a horizontal line; she writes the color number for the lighter shade above the line, and the number for the darker shade below the line.
Miyazaki and Yasuda discuss the color of the gold nugget which Ashitaka offers in payment for rice. Miyazaki wants to use a reddish gold color, instead of the yellowish gold color which is normally used as the color of gold. Miyazaki's point is that Ashitaka came from Touhoku, and an old Japanese legend says that Touhoku produced reddish gold dust. Miyazaki also wants to use a flashy and clear color for the scoop in the rice vendor's basket.
---
Miyazaki's Work Style
[Time 0:26:30]
While Miyazaki sits at his desk, he either draws the E-konte, or checks and completes all of the final Genga (key animation drawings) drawn by the animation staff. There are many animation film directors in Japan, but only Miyazaki checks and completes all Genga. That is one of the most important factors for his remarkable success. However, checking Genga is not an easy job; it requires special skills, because the schedule upon which the sequences of Genga are completed does not necessarily correspond to the sequences' time ordering within the story. Thus Miyazaki must remember all of the scenes of the story; and when he checks a Genga sequence, Miyazaki must instantaneously recall his memory of that scene.
Many of the Genga we have seen in our tapes, even after final completion by Miyazaki, cannot be found in the final movie. We wonder how many Genga Miyazaki dumps during production.
---

The animation process... Studio Ghibli style
[Time 0:27:45]

---
The following is the procedure for making animation films at Ghibli:
Miyazaki draws his E-konte.
Based upon his E-konte, photocopied at 201% enlargement, the animation directors and Miyazaki decide the layout of each cut. This work is comparable to that of cameramen [especially the Director of Photography] in conventional movie filming. Cameramen usually decide camera angles, movements, lens types, framing of the picture, etc.
Background drawings are painted by the Art Department; the drawing of characters and their movements, as well as other moving objects, is done by the Animation Department. The Animation Department then draws two different types of pictures, Genga and Douga. A Genga sequence is a series of drawings of main movements, which represent the framework of a specific scene. When Miyazaki and the animation directors decide upon the number of drawings for an action, they also decide the length of that movement. A Douga sequence is a series of drawings "inbetween" each sheet of a Genga sequence, giving the effect of smoother motion in order to lend the feeling of "real" action to the film. Basically, animation is comparable to acting in conventional movie filming.
A set of Genga and Douga sheets for each scene goes to the Clean-up Department, where they are completed.
The completed Genga sets go to Miyazaki for his final check and completion. In this process, Miyazaki controls all aspects of the animation's movements under his direction.
The Genga are transfered onto cels for coloring by the Color Department.
The colored cels and background paintings are sent to the Photography Department, where they are combined into "cel setups," and photographed by a special camera in order to film the animation movie.
---

Miyazaki at work... the details
[Time 0:29:30]

---
Miyazaki thinks that six sheets of Genga drawings for a one-second scene (of an ox falling into a canyon) is too much, and that the sequence does not fit the scene which he intended to create. He decides to use only two sheets for the scene, and we see him talking to himself about which movements should be omitted from the scene. It is as if Miyazaki is looking for a "line of motion" which only he can see.
1996/03/12: We encounter the basis of the animator's work. Miyazaki wants to determine the length of each movement of a scene in which Ashitaka carries a wounded man on his back [when Ashitaka first sees Tatara-Ba]. He asks two assistant directors, Kouji ARITOMI and Hiroyuki ITOU, to act out the scene for him. Miyazaki (using a stopwatch) carefully observes each movement of the action of Aritomi pushing Itou's body up on his back. Aritomi recalls a similar experience he had with Miyazaki eight years before, which turned out to be for the scene in Totoro during which Satsuki carries Mei on her back.
Miyazaki must analyze each movement of the action, and memorize each moment as a picture in his mind. Later on, he will recompose all of the sequential pictures in his memory, when he draws his Genga. On top of that, Miyazaki measures the length of each movement with his stopwatch, until he feels comfortable enough to draw. Miyazaki says, "Drawing one excellent picture is not good enough for an animator. One picture does not really represent all aspects of an action. Animators must have timely sequential picture memory to create animation drawings."
I am sure that Miyazaki must be born with a special capability of shape memory, as if he has a special digital video camera in his brain. [We see the quick action recorder, a device used to record a sequence of Genga and play it back as an animation.] Luckily, ordinary people (especially we as amateurs) can use the quick action recorder to visually understand the animator's work -- such as checking a Genga sequence for weaknesses in the drawings of shapes, or mistakes of timing in a movement.
---

Andou and Miyazaki: collaboration and commentary
[Time 0:33:45]

---
1996/03/21: Today, we have begun to understand some interesting aspects of making animation. Miyazaki cannot make up his mind about how many sheets of Genga he should use for this scene [the first fight between Ashitaka and San]. He has three sheets; the first one is a drawing of San and Ashitaka starting to fight. The second drawing is of San's dagger touching Ashitaka's body. The third drawing is of San's dagger moving away from Ashitaka's body. Miyazaki thinks that if he uses all three drawings, including the second one, the scene will be too illustrative and will not be able to convey the speed of their fight. On the other hand, he considers that the second drawing may give the audience a better understanding of the scene. He asks Kitaro KOUSAKA, an animation director who sits next to Miyazaki, for his opinion of the scene. They do not reach a conclusion, and decide to ask Andou to make a final judgement.
Miyazaki says to Kousaka, "Andou will like using all three drawings." Kousaka anticipates that Andou will agree with Miyazaki's idea of using only two drawings. Basically, Miyazaki explains to Andou his reasons of using only two drawings, in order to create a faster and more dynamic fighting scene; although Miyazaki's speaking tone sounds like he is asking Andou's opinion, it is more likely from his manner that he is trying to convince Andou.
Andou knows and understands his own position in the conversation from his long experience of working with Miyazaki. He agrees with Miyazaki's idea, but not because Miyazaki is his boss. He really admires Miyazaki's intuitive techniques as an animator, of how to make effective action scenes in animation films.
Miyazaki says, "Our job as animators is not only to draw scenes. We must find the minimum necessary and important lines for the specific movement in a given action. The techniques of animation drawing are not the same as those of painting a still picture. Animation is a consequence of the audience's perception of movement created by sequential drawings. For this reason, each drawing in the sequence -- especially the lines -- should not be drawn too detailed; rather, they should be drawn less [detailed] and create an instant pause in the sequential movement. You can watch a perfect example from the fighting scenes."
Andou has been working until 4:00 AM every day during the production of Mononoke Hime. Andou says, "My job as Animation Director is to 'clean up' the final Genga, after Miyazaki-san's check and correction. Even though I have been working for Miyazaki-san for a long time, still I have encountered and realized how great Miyazaki-san is as an animator. He mastered the technique of drawing long ago, but somehow, he knows how to make each scene effective and lively. I think it is because he is a born animator. For instance, in the beginning of the movie -- when Ashitaka shoots an arrow at the Tatari-gami -- Miyazaki-san created the same kind of special effect used in conventional movies, which is a kind of shaking movement of the camera. Do you know how he did it? He inserted one enlarged drawing into the scene. Can you believe it? I could not come up with such an idea, no matter how hard I worked."
---
MIYAZAKI Hayao no souzou kairo (Creation Passages Of Hayao MIYAZAKI)
Jidai no kaze o yomu (He Reads The "Wind Of The Age")
[Time 0:40:45]
Normally, Miyazaki spends his time at Ghibli either working on his E-konte, or checking and completing Genga. It is easy for us to know which task he is working on currently, because while he works on his E-konte, he jiggles his legs. This habit represents his struggle as a writer for creating a story. During his work on the E-konte, Miyazaki often takes a break, and talks either to himself or to Andou. He says to Andou with a smile on his face, "Who knows how the story goes and ends. Can you tell me?"
His struggle for creating an original story mainly comes from his strong desire to create an absolutely new type of drama, which should be very different from the movies he has created previously, and should be well received by Japanese society. He wants to address in the drama the following five very serious issues, which he believes many Japanese young people recognize and feel frustrated with:
Young people feel emptiness in their minds.
Regardless of their daily good or bad behavior, the lives of many Japanese -- especially those of young people -- are often involved in inexplicable unfairness. And no one knows even how to solve problems. They have to learn how to live on their own lives without any hope for the future. Typical examples include discrimination based upon disease, race, gender, and unreasonable causes [i.e., for no specific reason].
The relationship between human beings and Mother Nature has changed. Often, humans forget the fact that Mother Nature has allowed human beings their existence in this world.
An increasing number of incidents have occurred based upon the ugly side of human nature: fighting instinct and hatred. People accumulate their hatred towards something and/or someone different from themselves, and end up killing them.
Co-existence and conflict between rationalism and attraction to mystery within a same society and/or one person.
[Images shown during the narration of the above points include: Ashitaka's cursed arm; San fighting at Tatara-Ba; illness (lepers); humans and nature; war footage; scenes involving Shishigami and Kodama.]

Miyazaki says, "I want to challenge serious problems, which are impossible to solve, but unfortunately exist. I do not want to tell lies to society, especially young people. I have made very kind and cheerful love stories, and Japanese people and society loved them a lot. In my movies, characters have established basics in their lives, which they want to protect and keep. Of course, they are well loved by their families and society. But I have come to the point where I have to let society realize that, in fact, there are many unthinkable and unsolvable contradictions. In my new movie, a main character will be told by his society, by his own people: 'We have to let you go, even though what you did for us was honorable and respectable.' He does not have a choice, and consequently starts his lonely journey to look for hope and the true meaning of his life. My new movie will be a serious and heavy movie, and it may not be financially successful. In fact, I got Suzuki-san's permission, since Ghibli may end up closing down its activity because of my new movie. I will not meet my fans' perceptions and expectations of the long established theme and tone of my movies. People who have supported my work and Ghibli may no longer love us. But I have had enough of it, and now I will destroy it. And Suzuki-san is OK with that."
---

Suzuki tries to understand: Mamoru-beki mono (person who must protect)
[Time 0:47:00]

---
In his office, located on the second floor of the Ghibli building, Suzuki is taking notes from Miyazaki's E-konte concerning some important scenes of the drama. He says, "This is how I remember and digest a new story to create a marketing and advertising strategy for our new movie. I understand that the purpose of Ashitaka's journey is to search for his own important and protective thing to live up to with his own life [his "spiritual core"]. I believe that is San. But I do not know about after that; even Miya-san himself does not know yet."
---

Miyazaki and Suzuki show NHK documentary at Studio Ghibli
[Time 0:48:20]

---
1996/03/21: Ghibli has a regular study workshop with an outside guest speaker for internal use. Miyazaki and Suzuki liked NHK's special documentary series, Nijuu-seiki no eizo (Pictures Of The 20th Century), and admire its director. Today's guest speaker is the director of the documentary series, Mr. KAWAMOTO. Both of them (Miyazaki and Suzuki) believe that the the documentary presents realities of human nature, which took place throughout Japan of the 20th century. Therefore, we can learn the simple fact from the documentary that history repeats the same mistakes, without learning anything from these mistakes.
Many members of the TV audience in Japan criticized the documentary because it shows too many dead bodies and killing scenes. In fact, many scenes in the documentary had been prohibited from being shown to the general public until recently by the Japanese authorities, such as the Japanese Military. Miyazaki says, "I had seen and observed many dead bodies and distractions during my young age, because of World War II and many natural disasters. I knew what the Japanese army did to the Chinese and Korean people during the Japanese occupation period. And so on. Our generation learned about this history and its pain from our own experience. And I just assumed that I did not need to talk about those unpleasant issues and incidents to my children. But one day, I discovered the fact that my children do not know anything about our own history. Furthermore, they feel OK with not knowing about anything. It was a big shock to me. I realized that I have to tell many things to young people. Especially, ever since the fall of the Berlin Wall in 1989, many [nasty] aspects of current society -- such as wars, hate, and genocide among minority races and religions -- have been occurring. Even domestically speaking, we have seen many social changes and incidents, such as the Aum Shin Rikyo incident, the Kansai [Kobe] earthquake disaster, etc. It is my duty as a writer [to tell about these things]."
---

Miyazaki works on strategy of final battle and Ishibiya details
[Time 0:53:45]

---
1996/04/04: Miyazaki discusses with Andou his idea of how to finish the story. He does not want to end a story as a fatal fight between the forests and the Tatara people, because it is too simple, and many real wars do not happen that way. In Miyazaki's new idea, during the fight between the forests and the Tatara people a powerful, unpredictable Samurai group appears and unfairly destroys everything, including the forests and the Tatara people. Andou asks Miyazaki, "Shouldn't we imply the Samurai group's existence in advance?" Miyazaki says, "It does not matter. That is how the real world works." However, Miyazaki listens to Andou's suggestion, and he wants to add scenes in which Jiko-Bou and Eboshi meet and discuss the Samurai group. He tries to introduce characters in the reverse order of the incidents' occurrence, because he wants to make the audience understand the fact that when an incident occurs, many of the people involved feel that the incident has just unreasonably happened without any warning. However, he knows neither whether he can make this difficult task happen, nor how he can do it. One thing about the story is clear: in the end, an explosion of Shishigami will cause big changes in the human world.
Miyazaki works on ideas about Jiko-Bou and Eboshi entering Shishigami's forest, and takes out his notebook to write down his new idea. He looks at it, thinks about it, and talks to himself. He wonders whether he has gotten into a slump. Apparently, he could not reach any conclusion.
Yasuda comes to Miyazaki with two different sets of color specifications for the mask of one of the Ishibiya men. Miyazaki wants to use the brightest and darkest colors from the given options. He asks Andou's help to convince Yasuda about his preference, but Andou does not say much to support either Miyazaki or Yasuda's ideas. Yasuda comes up with another option that makes everyone happy.
---

Studio Ghibli celebrates the arrival of Spring
[Time 1:00:00]

---
1996/04/06: As one of Ghibli's annual events, the staff celebrates nine newcomers for starting their very demanding work. As you can see from the video, a majority of the work force at Ghibli is female, and they are very lively and enjoy eating and speaking. The nine newcomers sing a song to entertain their Sempai (senior) workers.
---

Miyazaki and Kondou work with the staff
[Time 1:01:30]

---
A special teaching and practice session for the newcomers to Ghibli begins. The Animation Department has two instructors: Animation Director Yoshifumi KONDOU, and one of his assistant animators, Atsuko OOTANI. Ootani teaches one of the newcomers about the so-called "motion curve" of objects. When objects move, we can trace their physical movements as curved lines. How precisely an animator can trace the curved lines and can draw these lines on paper, are critical and basic for an animator to master.
There is a unique newcomer assistant in the Production Department. His name is Masakatsu ISHIZONE; his nickname among his colleagues at Ghibli is "Itsuzai-kun" ("man of exceptional talent"). We can easily guess from his nickname what great expectations Ghibli has for this young man. However, currently he is in the usual newcomers' practice and study period with his pals.
Miyazaki does not like the facial expressions in the Genga [for the scene in which Tatara female workers are pushing the bellows very hard]. According to his own standard, it is too simple and too illustrative for the scene. [By "too illustrative," Miyazaki means that the drawing "explains" too much to the audience; it should illustrate only one specific moment, and allow the audience to make sense of it.] He goes to the animator who drew the Genga, Hiroshi SHIMIZU, to teach him about how facial expressions should be drawn in the scene.
Miyazaki says to Shimizu, "You know, we already know that the Tatara women are working under harsh conditions, and it is tough work. That is an unspoken premise. If you draw the Genga as you did, to illustrate their physical strength and the pain on their faces as their emotion, the outcome will be too simple and [illustrate] too much to the audience. The women in your Genga look to me, as if they are just about to die in a few minutes. If their work is so painful and pushes them to the edge every moment, they cannot work there for long hours. The reality is that the women work long and hard hours, and as a result, they are tired out! Think about the facial expressions of marathon runners as an example. After a certain level of pain is passed in their bodies, often runners lose any emotion on their faces, and their faces become like stone faces. Just like that. All objects in this world, including humans and animals, have two different movements in one action. You know the law of physics [of action and reaction], don't you? Just like a pendulum swings back and forth. You, as an animator, should draw and express complicated human and animal emotions in the specific situation in your Genga, in order to breathe life into your Genga. You do not want to draw weak and sick women here. They are very positive and cheerful women, even though they are working very hard and are tired now. You may not realize it, but sometimes people smile when they face very serious pain. We animators should express this complication in the Genga, in order to express our personalities. You should also live your own life with this kind of spirit."
Miyazaki finds a pleasant surprise in the Genga [of the scene in which Gonza demands that his Ishibiya be brought to him, after Ashitaka is shot]. Shinsaku SASAKI submitted his Genga after adding comical movements for the Tatara village men based on his original idea. Miyazaki likes it, and he thinks that it is very funny, even though the Genga contain too many extra movements. Therefore, he decides to take a look at the Genga using the quick action recorder, together with Kousaka, Andou, and Assistant Director Kouji ARITOMI.
Everyone likes what they see from the recorder, and they cannot stop laughing. Aritomi tells Miyazaki, "I saw that Sasaki was performing the scene by himself. I am sure he got his idea from his experiments." Unfortunately, the main character in the scene is Gonza, and therefore Miyazaki cannot use all of the comical movements of the Tatara men. However, Miyazaki appreciates Sasaki's creativity, and praises Sasaki with his big smile (although not many words). Because we know about this episode, now when we look at the scene in the final movie, our eyes go to the Tatara men instead of to Gonza!
---
MIYAZAKI Hayao no souzou kairo (Creation Passages Of Hayao MIYAZAKI)
Fuudo no seikatsu (The Living Climate)
[Time 1:06:45]
1996/04/20: We find Miyazaki, together with Assistant Director Hiroyuki ITOU, correcting one of the background paintings in the empty Art Department (located on the third floor of Studio Ghibli). Miyazaki thinks that the painting is very beautiful, but it is too "flat;" it should have more depth. Itou tells Miyazaki, "The painter [of the background], Takeshige-san, told me that he had a dream exactly like this painting."
Following up on their conversation, we conduct an interview with Youji TAKESHIGE about his dream. He is one of five art directors for the Mononoke Hime movie production. Takeshige says, "In my dream, I was walking in a beautiful forest, and I found myself becoming lost there. I decided to lie down there for a while, to absorb the air and its beauty into my body. I was every excited, and cried to myself, 'This is the forest that Miya-san and I wanted to draw. I've got it.' The next morning, as soon as I reached the office, I started work on my painting. But I could not paint that forest on paper, no matter how hard I tried. I was angry with myself. The harder I tried, the more I could see only the big gap between my painting and the beautiful forest in my dream. Miyazaki-san always tells me that I have to make 'empty air' (kuuki ga nukeru) in painting: 'Please do not paint so precisely like the real Japanese scenery.' I know what he is talking about, I agree with him, and I badly wanted to do so. It was a very difficult and frustrating moment for me."
The other four art directors are:
Nizou YAMAMOTO - He painted the primitive forests where the Kodama live.
Naoya TANAKA - He painted the scene in which Ashitaka starts his journey.
Satoshi KURODA - He painted mountain scenery, such as dried-up mountains and bare-sided mountains.
Kazuo OGA - He painted the Emishi village, and the scenery around Shishigami's pond. He was also an art director for Totoro, Omohide PoroPoro, and Heisei Tanuki Gassen Pompoko.
---

Miyazaki and staff journey to Yakushima Island for inspiration
[Time 1:10:00]

---
In May 1995, before starting production work on the Mononoke Hime project, the main production staff traveled with Miyazaki to Yakushima Island, whose primitive thick-leaf forests and other scenery Miyazaki wants to use as the basis of the Shishigami's forest in his new movie. The objective of the trip was that Miyazaki wanted all his staff to feel and understand the scenery and its air in their bodies. Miyazaki believed that it was critical to share with his staff the emotion and passion which Yakushima had inspired in him, to reach a new level of determination in his new project. Even though Yakushima meant a lot to Miyazaki's life as an artist, Miyazaki knew that he could not teach his spiritual core and his deep inner desire to his staff with mere words. Letting them experience it with their own hearts and bodies, was the only way for them to understand Miyazaki's work and inspiration.
One of the many examples of directly visible results from this trip, is the background painting for the scene in which Ashitaka awakens from his death sleep at the shore of the Shishigami's pond. Looming above Ashitaka is a big tree covered with many small drops of water, which shine as if they are crystal balls. Everyone taking part in the trip saw exactly the same tree in Yakushima.
Yamamoto says, "I experienced happiness at seeing the real scenery of Yakushima. The primitive Japanese forest, which Miya-san wants to draw in his movie, is a very difficult subject to paint. This is because the forests are made up of trees with the same low height, and full of small yet thick leaves, called kouyoujurin. When we look at this kind of forest from above, it looks like one flat green sheet -- unlike the rain forests of the Amazon, where the forests are made up of trees with many different heights, and with big leaves. On top of that, depending upon the season, the forest changes its color with a mixture of many different color combinations."
Tanaka says, "When I was given my assignment -- to paint the background of the scene in which San and Okkotonushi run through the forest with blood dripping from their wounded bodies -- Miyazaki-san told me to paint Shiratani-no-Suiunkyou in Yakushima. I was totally confused by his order, and was speechless for a while, because Shiratani-no-Suiunkyou is one of the most beautiful locations in Yakushima. On the other hand, my assigned scene was dark, unhappy, and brutal. I sought to reassure myself with him about his request; Miyazaki-san told me, 'It is your duty and responsibility as an art director to paint the most beautiful scenery even in the most brutal scene; that is why you are here.' I struggled to destroy my own perception of the given scene. My biggest challenge is, how far I can follow Miyazaki-san's deep thoughts and creative mind, which I believe he has established from his long life experience." (Tanaka smiles.)
---

Miyazaki talks about medieval Japanese agriculture and plants based on Sasaki KOMEI's book
[Time 1:15:15]

---
Miyazaki says, "Long back, we had been taught that the origin of Japanese culture is in rice-growing agriculture. And therefore, Japanese culture is classified as an extension of the East Asian culture based on rice-growing agriculture. But after reading this book [by Sasaki KOMEI], I discovered a new theory: that an origin of Japanese culture was in the primitive forests with kouyou-ju (thick-leaved trees). This culture came from Bhutan. The eastern sides of the Japanese islands have many of this kind of forests, even now. And I believe that is why many ruins of the oldest Japanese culture, the Joumon culture, have been discovered on the eastern side of Japan. We can find one of example of kouyou-ju forests at Shirakami-Sanchi in Touhoku. In fact, this new theory inspired me to create the new drama."
The hometown of Oga, one of the five art directors, is located in Touhoku; he grew up with the natural setting which Miyazaki would like to present in his movie. Oga brings his latest batch of background paintings of Shishigami's pond to Miyazaki. Miyazaki admires Oga's beautiful paintings, with their mysterious atmosphere. However, Miyazaki thinks that these paintings should have a more natural feeling. He is especially concerned about the effect in the paintings in which light from the sky is sparkling as if it has a supernatural power. He understands and appreciates Oga's efforts and creativity in drawing 'holy air' around Shishigami's pond; but Miyazaki does not think that these paintings fit well with his own mental image [of the scene]. Based upon their conversation, Oga makes some changes in his drawings, with further input from Miyazaki.
---
Kamera o taukuru (Camera Movements)
Jikan kuukan no toraekata (Ways of Grasping Time and Air)
[Time 1:21:00]
One of the most important tasks of animators is the making of "camera movements." Miyazaki looks at the Genga [for the scene in which the wounded Ashitaka carries San past Toki] as if he has become a camera. He discovers the reasons why he does not like the Genga. Firstly, the background drawing in the Genga is drawn as if it were a view from a wide-angle lens. Unlike a view from a wide-angle lens, Miyazaki thinks that when a camera moves backward to capture the scene, the background scene should gradually become smaller. Secondly, the Genga shows light coming from two origins, and that is not acceptable.
Miyazaki speaks to the cameraman filming the documentary, Jun SUZUKI, about his opinion concerning how he draws Genga with creation of camera movements. Miyazaki says, "Because of the revolutions in technologies associated with cameras and lenses, techniques of drawing animation must be changed. For example, since the introduction of the telephoto lens, people have started to get used to seeing photos with views from telephoto lenses. I am sure that the first time people saw that kind of photo, they were very surprised, and might not have liked them. It takes about ten years for the public to feel comfortable with seeing new types of views, and to consider them 'normal'. Yet knowing the fact that the general public has already accepted and perceived these kinds of views generated from many new types of lenses, I still draw my Genga using the view generated by my own eyes. That is my philosophy as an artist. The lines reproduced by our brains compose what we see with our own eyes, and are a reflection from the picture in our own naked eyes. I do not have any special device or lens in my brain. This means, I do not see any object and its movements, with the same types of views as some photos and pictures present to the public. For example, I may see and draw a picture which has two different focus points. By the way, this is not acceptable in perspective drawing. As you know, the perspective technique was invented by Europeans. But for me, it is an illusion. In addition to this, I have never been attracted to pictures generated by computers. I draw the same as I see with my naked eyes."
---

Miyazaki on manga and anime
[Time 1:25:45]

---
Miyazaki's conversation with the cameraman goes on to his opinion on social phenomena regarding Japanese manga (comics) and anime (animation) culture. In fact, we see Miyazaki's side-note on a page of his E-konte [in the scene in which San and Eboshi fight a duel] says, "Oh, Japanese Anime!"
Miyazaki says, "As you know, there are Japanese expressions, such as manga-teki hassou (manga-like inspiration/idea) and manga-teki hyougen (manga-like expression), which imply [something that is] not realistic by any means. I think that people who use the Japanese word manga in this way, do not really recognize its origin in deep social phenomena and changes. Realistically speaking, manga culture has penetrated into Japanese society; it is a part of life now. It is not only in Japan; the manga culture also has penetrated into Korea, China, and Taiwan, where people have been enjoying phenomenal economic growth. Manga gives us freedom from real constraints, such as real time line limitations and physical constraints. I am sure that you, as a film cameraman, totally understand what I am talking about. Animations and movies can stretch out one particular moment for enlarged momentum by emphasizing the event or the experience taking place. This means, that we provide experience based upon relative time (length) to the public, but not in an absolute time (length). Regardless of their daily habits of reading manga or watching anime, most Japanese and Oriental people in the manga culture become less aware of the concept of absolute time, which creates time limitations and availability and physical constraints. And it is easy for them unconsciously to live in this created world. I worry about these phenomena."
---

Cel compositing and the multiplane camera
[Time 1:26:20]

---
An assistant to the Production Director prepares for filming the scene in which Ashitaka and Yakkuru follow the Tatari-gami down a cliffside. He puts together the background painting (on paper), another background painting on a cel (called a "book cel"), and multiple painted cels of Ashitaka on Yakkuru and their shadows. Ghibli has two enormous multiplane cameras in the basement of the studio building. The cameras are called by their nicknames, Musashi and Yamato (the names of famous Japanese battleships from World War II).
Then the Director of the Photography Department, Atsushi OKUI, and his assistant, Tamao KOSHIRO, take over the work. Firstly, Koshiro removes static electricity from the cels, in order to avoid any dust. Next, he arranges each cel onto a computer-controlled moving device to create simultaneous movement for filming, which is called "contact multi-filming."
---

Miyazaki criticizes film rushes
[Time 1:27:40]

---
Every Saturday morning, film rushes are shown in a screening room at Ghibli. Miyazaki does not like the rushes [of the scene of Jiko-Bou following Ashitaka out of town], because he thinks the grass in front of the road moves too fast compared to other objects in the scene. He orders the Photography Department to re-film the scene.
Cameraman Junji YABUTA films the scene (Cut 192). The scene is composed of seven layers:
the background painting (on paper);
a book cel with a background painting of the scenery behind the road;
a book cel of bushes and grass behind the road;
a book cel of grass in front of the road;
a book cel of grass and bushes in front of the road;
a cel of Ashitaka and Yakkuru; and
a cel of Jiko-Bou.
The speed with which the objects represented on each cel moves in the scene is different. The distance which the cels were moved between two particular setups in the filming of this scene were: 4.5 mm, 4 mm, 2.5 mm, 1 mm, and 0.5 mm.

Prior to joining Ghibli, Atsushi OKUI, Director of the Photography Department, had worked with Miyazaki as a cameraman for his movie Kurenai no Buta. Okui says, "Somehow, he liked my work and recruited me to Ghibli. At that time, both of us agreed upon the importance of having our own in-house camera and filming devices, which are specially customized for animation filming. He totally respected my ability as a camera professional, and put me in charge of initiating and establishing a brand new Ghibli photography department. We designed our own cameras (Musashi and Yamato) to fulfill Miyazaki-san's needs as an animation film director, so that he can easily make his advanced drawing plans considering the availability of in-house filming techniques, before watching the outcome from filming. As you may know, cels are very sensitive material; therefore, we cannot make filming mistakes so many times."
---

Miyazaki works with Kousaka on Genga of wolves
[Time 1:31:00]

---
Animation Director Kitarou KOUSAKA has taken on the very important responsibility of creating an image of, and drawing, the yama-inu ("mountain dogs" or wolves), which not only are main characters in the movie -- including Moro -- but also represent the origins of San's spiritual core and physical movements. Miyazaki wants to draw San's body movements and actions like those of the yama-inu; in his own words (written in the E-konte), "Yama-inu no you ni hashiru San" ("San runs like a mountain dog").
Kousaka has conducted research, using animal encyclopedias and illustrated reference books, on the body shapes and bone structures of many different kinds of dogs. He needed to understand the dogs' bone and muscle structures in order to compose the mechanisms of the dogs' basic movements, such as running and jumping. In fact, a dog's body is not a chunk of meat!
We can see examples of the results from his intensive efforts in the scene in which San and the wolves attack Tatara-Ba. When San runs across the top of a roof and jumps down to attack Ashitaka, we can easily trace images of a dog's movements in San's actions.
---
MIYAZAKI Hayao no souzou kairo (Creation Passages Of Hayao MIYAZAKI)
Kodomo jidai no taiken (Childhood Experiences)
[Time 1:33:10]
We see Miyazaki making a paper comb. Initially, we did not understand what Miyazaki was doing. He makes his paper comb in order to prepare for an upcoming TV interview, which is filmed in the rooftop garden of the studio building.
Although we do not see his face well, the interviewer is one of the most famous TV journalists in Japan, Tetsuya TSUKUSHI. Miyazaki says, "Currently, I am concerned mostly about whether Japanese children are happy and healthy enough to enjoy their own youth. I know that we, as adults, have to worry about whether Japan can sustain its economic growth, and how we can escape from the current recession. However, I believe that as long as all Japanese can live positively and in a healthy way, money should not be a big issue. The bottom line is that we have to reconfirm the simple fact, that children should live their lives in order to have enough of those experiences which can be experienced only in their early stage of life. I believe that they are sensitive and absorbable enough for me to say that a five-minute life experience for youths is comparable to that of a one-year life experience for adults."
Arata MIYAZAKI, Hayao's elder brother (by two years), is interviewed. He says, "When Hayao was a boy, he was always drawing something on paper. When I saw his drawings for the first time, I was instantly aware of his special 'eye' and skills of grasping the shape of any object. He used only black pencils to draw, but his lines were accurate."
Hayao MIYAZAKI was born in 1941 at Bunkyo-ku, Tokyo. Due to the increasing intensity of World War II, the Miyazaki family moved to Utsunomiya-shi, Tochigi-ken (northeast of Tokyo), when he was three years old. The family lived there until he was ten years old. The house where young Miyazaki and his family lived in Utsunomiya-shi is still being used as a residence. Fortunately, we can visit the inside of the house, many features of which are still maintained in the same condition as when Miyazaki lived there. We can easily guess that this is his "birthplace" as an animator. For example, we find the same staircase in this house as is seen in the makkurokurosuke ("dust bunnies") scene in Totoro. His brother Arata speaks about his childhood memories: "Just the same as Mei follows Satsuki in Totoro, Hayao always followed me, and I did not know how to deal with it."
When the two brothers sketched the scenery of the garden from the second floor, Arata was very surprised by Hayao's painting skills. His painting was very beautiful, and had clear contrast between the brighter places and their shadows. Arata also says, "Whenever Hayao went to the bathroom, he stayed there for 20 to 30 minutes. While in there, he usually started his own original on-the spot live broadcasting show, as if he were a radio reporter at a fire scene. He even included the noises from the fire engines. He was very creative and funny."
In July 1945, when Miyazaki was four and a half years old, Utsunomi-shi was seriously bombed by the US; therefore, the Miyazaki family had to escape to Kajima-shi, where his father's airplane factory was located. When his uncle picked up the family in his truck for the move to Kajima-shi, a young mother with a baby in her arms approached the truck. She begged the Miyazakis to give her and her baby a ride. Unfortunately, the truck driver ignored that young mother and drove away. Ever since, Miyazaki has never wiped out this incident from his mind. He was ashamed of himself, since he did not have the heart to tell the adults to save the mother and her baby. After becoming an animator, he swore to himself that he would draw boys and girls who are brave enough to stand up and do what is in their hearts whenever necessary.
---

The origins of Tatara-Ba
[Time 1:38:30]

---
After World War II, the Miyazaki family went back to the house in Utsunomiya-shi. Bombing had destroyed Hayao's original elementary school, Nishiyama Elementary, so he attended Nishihara Elementary School. Arata MIYAZAKI's memory continues: "On the way back home from the school every day, Hayao and I used to stop at the blacksmith shops and restlessly watch their work."
Hayao MIYAZAKI is interviewed about this childhood experience: "There were two blacksmith shops in the town. The work of making iron was magic to me. It was very interesting work, and I was excited to watch the process in which a chunk of hot, red stuff becomes shaped iron. I was really impressed by everything there, and I even considered becoming a blacksmith. Later on, after learning about the many aspects of iron manufacturing and their consequences to our society and nature, I changed my opinion about iron manufacturing.
"Mastering iron manufacturing techniques made it possible for primitive people to become powerful conquerors of Nature and of other, less civilized, ethnic groups. People became crazy about increasing iron manufacturing capacity and obtaining resources of raw materials in order to expand their military and economic power. Anyway, my childhood encounter with iron manufacturing was certainly one of the primary inspirations for creating the movie Mononoke Hime."
Japan is estimated to have started its own iron manufacturing from no later than the 6th century A.D. At the Wakou iron making museum in Yasuki-shi, Shimane-ken (the old Izumo country region), a big chunk of the old raw form of unfinished iron, called kera, is displayed in front of the museum building. This chunk was discovered at the remains of a Tatara iron manufacturing site near the museum.
In the Tatara iron manufacturing process, iron dust is first melted at 1100 degrees Celsius to produce kera. Then, the kera is heated up and beaten to create tamaga-hagane, which is used to make Japanese swords. During the production of kera, in order to maintain a fire temperature of 1100 degrees Celsius in the toro (furnace?), the Tatara people must tread constantly on the fuigo (bellows) to send strong wind through the furnace. We can watch this procedure in the Tatara-Ba scenes in Mononoke Hime. In the movie, Miyazaki created a tremendously huge and tall Tatara-Ba from his imagination.
At Yoshida village, we see the Sudaka remains of a Takadono style Tatara. The Tatara iron manufacturing procedure cannot tolerate any moisture; therefore, a building with a high floor, known as "Takadono style," was built for Tatara-Ba.
The Tatara iron manufacturing process abuses natural resources because of its low yield. For example, to produce three metric tons of Tatara iron, the process requires ten metric tons of charcoal (which requires trees in 100 square meters to be cut and burned), and 12 to 13 metric tons of iron dust. The iron dust is passed through a man-made water stream, to screen out other stones. This iron dust screening procedure is called kanna nagashi. After water runs through kanna nagashi, it flows back into the river from which it originated, and as a result the river becomes polluted.
Miyazaki precisely described all of these procedures and the resulting scenery in Mononoke Hime, such as Tatara-Ba, kanna nagashi, sumiyaki (charcoal making), and the polluted river where Ashitaka meets San for the first time. Fortunately, the respectable power of Mother Nature, especially the rainfall in the Chugoku Mountains, has been strong enough to maintain its beauty and scenery despite these long time abuses.
The iron-manufacturing people (Tatara people) were protected by their own goddess, and by their independence from authority, because of their special skills and knowledge. Miyazaki also represented Tatara-Ba as a fortress in his movie, to imply its independence. There is a shrine in Horose-cho, named Kanayago Jinja, which is dedicated solely to the iron goddess, Kanayago-no-Kami. Kanayago Jinja is decorated by many portfolio paintings of Kanayago-no-Kami, who rides on the back of a fox which has two tails, holding a lance in her hand. The portfolio reminds us of an image of San in Mononoke Hime.
---
MIYAZAKI Hayao no souzou kairo (Creation Passages Of Hayao MIYAZAKI)
Kiokuryoku to mousouryoku (The Power Of Memory And Wild Fancy)
[Time 1:43:40]
Miyazaki often draws his Genga based upon scenes and emotions of his first-hand experiences from childhood. When he draws a yama-inu, he thinks about his own dog. He wants to visualize his dog's emotional expression, when the dog feels hot and therefore opens his mouth and breathes with the sound of "Ha- ha-". He is not sure about where the dog's tounge is located, and whether the dog rolls up his tounge or not. Miyazaki asks his staff, of course including Andou, about their experiences. He draws a little bit, and then looks at it, to make sure that he remembers the scene which he just drew on paper. He says to himself, "I did not live closely enough with my dog to say that my dog and I were 'one flesh.' It costs me now."
In this moment, he is drawing the scene in which San and the two young wolves have a conversation regarding the wounded Ashitaka. Yes, as all of us know, San and the two young wolves are 'one flesh;' more accurately, sister and brothers.
---
Kikau kentou kai "Gonta o korose"
(Discussion Meeting For Planning "Kill Gonta!")
[Time 1:45:45]
1996/06/06: Miyazaki calls a staff meeting for planning a potential new movie. The story would be based upon Min AYAHARA's manga Gonta o korose ("Kill Gonta!"). Miyazaki explains to his staff his opinion of the story, and eventually the meeting becomes a show of his wild imagination, in which he expands the concept of the story. He says, "I do not want to make a movie, because either I like the story or the book has a very good story to tell. The story should inspire me as an artist. Otherwise, I do not see any point in making a movie from the story. A main character of the story is Shini-gami (God of Death), and it is an interesting subject. Obviously, our philosophy of death and life will be the subject of the movie.
"Many Japanese used to live under the influence of Bukkyo (Buddhism) and its established philosophy of death. For example, if we do not live in a good manner and with a serious spirit, after our deaths, we will end up in Jigoku (Hell) to pay off our life time bad behaviors by being tortured by demons. And then we will be reborn in this world as forms of something woeful, but not human. Therefore, in order to go to Heaven after death and to be reborn in this world as happy humans, we should live our lives with good spirit and full of good behavior. But almost no one believes in the theory of rinne (reincarnation) any more. Japanese people started to think that 'When I die, that is the end of my life.' Along with this change, the focus of our lives has shifted to the individual, and to the individual's life. Ever since, we have lost our polite attitude towards the event of death. In this story, there is a concept of Shini-gami's growth. But I do not know if this concept can apply to current society. Furthermore, I am not sure even whether human beings can grow mentally and spiritually."
---
Mousou no hane o hirogeru (Expanding His Wild Imagination)
[Time 1:48:30]
Miyazaki continues his talk about Gonta o korose: "We may end up drawing daily life in the 'after-death world' the same as life in this world. Such as, the main character (Shini-gami) lives in a building, wakes up in the morning and goes to work whining, 'Oh, I have to work every day.' Of course, his office is surrounded by Hell, which is the origin of pollution, etc."
---

Miyazaki checks background art of Shishigami's forest
[Time 1:50:30]

---
1996/06/20: Art Director Nizou YAMAMOTO brings his latest batch of background paintings to Miyazaki. Miyazaki likes Yamamoto's work very much. Yamamoto worries about whether his painting for the scene [in which Ashitaka first sees Shishigami] is too obvious and too illustrative about Shishigami's appearance to the audience. Miyazaki encourages Yamamoto by saying, "Don't worry, it will be just fine."
Yamamoto prepares a seven-layer book cel and one paper background painting for multiplane camera filming. He is concerned that the outcome of using such a thick composition will be too dark for the scene. Eventually, with Miyazaki's agreement, digital compositing is used for the final filming of the scene.
---

Newcomers at final practice study
[Time 1:52:30]

---
1996/06/27: The newcomers' special study and practice sessions, which started on April 9, end today. We observe Douga Assistant Kaori FUJII, Assistant Director Masakatsu ISHIZONE, and Douga Assistant Atsushi TAMURA practicing painting on cels [the subject is a steak dinner]. Miyazaki comes to their desks once in a while, and gives advice about their coloring work.
Miyazaki tells Tamura, "Your steak does not appeal to my appetite. Firstly, the color of the steak is too dull. Secondly, the shape of the steak is twisted. Thirdly, the color of burned lines on the steak does not look like those on real food."
Miyazaki brings the color chart to Tamura, and explains which group of colors appeals in general as delicious colors to people's eyes. Miyazaki says to Tamura, "For coloring in movies, Ghibli usually uses colors one step lighter and more matte compared to the real colors of materials. However, the group of these 'one step lighter and more matte' colors does not appeal to our appetite. When you draw your painting, you should choose the colors more carefully."
Miyazaki even brings a page of print advertising of steaks to Tamura, to compare its color to that of Tamura's steak. Miyazaki continues to Tamura, "See, look at your steak. You painted the wooden plate with the brightest color among all the colors in the painting. As a result, we see the wooden plate first."
[Note: Atsushi TAMURA became a Genga Animator for the production of Miyazaki's next movie, Sen to Chihiro no Kamikakushi (scheduled for completion in 2001), and was one of three Genga Animators featured in E ni inochi o fukikome (Breathing life into drawings), a television documentary about the making of Sen. Another of the three animators featured in the Sen documentary, Hiromasa YONEBAYASHI, is seen sitting next to Tamura as he colors his steak.]
---

Miyazaki announces dinnertime
[Time 1:55:00]

---
As a daily routine, one of the staff prepares a late-night meal in the studio's kitchen. Today it's the turn of Kousaka, who cooks spaghetti with tomato sauce and potato salad. At 11:30 PM, Miyazaki announces over the intercom, "The late night dinner is ready; please feel free to come to the main staff desk located on the second floor, and eat it." Considering that the time is almost midnight, surprisingly to us, almost all of the main staff show up to eat the late dinner.
---

Genga test
[Time 1:56:15]

---
The Genga Test is an examination for Douga artists who want to advance their careers into Genga drawing. The subject for this year's examination is Cut 1057 [the scene in which a Samurai swings his Japanese halberd with his full power at Yakkuru's legs]. The scene contains many all-important basic actions, such as running, jumping, and swinging. Miyazaki explains to the applicants about many aspects of body movements of the actions in the scene. As a visual aid for Miyazaki's lesson, Genga Animator Kenichi YAMADA demonstrates the scene for the applicants, using an umbrella in place of the halberd; another Genga Animator, Makiko NIKI, also participates in Miyazaki's lesson by adding her own comments on movements in the scene.
1996/07/01: The Genga Test day has arrived. The exam takes place from 11:00 AM to midnight, and the applicants must complete their Genga for Cut 1057 from scratch within the given time. Today is an official day off for other staff members at Ghibli. The applicants are seven Douga staff: Makiko SUZUKI, Kuri SAWA, Kazuko SHIBATA, Misuzu KURATA, Kazuyoshi ONODA, Masaru MATSUSE, and Koujirou TSURUOKA.
To encourage the applicants, Miyazaki brought soba (Japanese noodles) and negi (scallions) from his home to cook dinner for them. In fact, he is a very good cook. During his youth, he and his two brothers used to cook in order to help their sickly mother. At 7:00 PM -- the dinner time at Ghibli -- not only the applicants, but also many main staff (even though it is an official day off) show up at the dinner table. At midnight, the exam is over, and all drawings from the applicants are submitted to the Animation Department.
---

Miyazaki, Andou, and Kondou discuss the test results
[Time 2:04:20]

---
1996/07/02: The examiners for the Genga Test are Miyazaki and two Animation Directors, Kondou and Andou. After carefully checking the seven applicants' sets of Genga for the above scene, the three examiners are disappointed by the results. In fact, no one passed the exam. However, Miyazaki gives kind comments on their Genga to each applicant individually. Typical comments from Miyakaki are:
"The Samurai's body movements in swinging his Japanese halberd do not have any power. Your Genga should represent the weight of the halberd, and emphasize the swinging action."
"Right before Yakkuru starts his jump, he should stop momentarily to accumulate his power and prepare his muscles for making his next movement. All animals, including humans, have to do this procedure in order to jump, regardless of their intention. No one drew this process in their Genga."
"You are young now, which means you can draw scenes with full of young energy. I cannot do that anymore; even you yourself, thirty years later, may not be able to draw such a Genga. It is full of young, vivid energy. Unfortunately, I did not see these drawing. That has nothing to do with your talent or technical maturity."
Kondou checks the Genga, and eventually draws the final Genga for the scene in the movie.
Following up on the exam results, one of the Genga staff, Tanaka, questions Miyazaki concerning the fact that the applicants cannot draw Genga to Miyazaki's standard. Tanaka asks, "They cannot draw, because they do not understand the scene? Or do they understand the scene, but have not sufficiently mastered their drawing skills and techniques?" Miyazaki responds to Tanaka's question, "Either way, they cannot draw. I have to say that they are not capable enough to do their jobs as Genga staff."
Miyazaki continues: "I think that all of us at Ghibli should have a fresh start of strict training in drawing. Nowadays, young people say that they want to express their individuality and personality in their drawing. But, I think that they forget a very important fundamental of becoming an individually established artist. Before starting to consider expressing their own personalities, they have to master common basic skills and techniques, which they can apply in order to share their thoughts and personalities with many others. Otherwise, I wonder how they can communicate their personalities or thoughts with others. They are not on the right track. In spite of my being the oldest artist here, I am a driving force for work and creation, which should not be."
---
Ashitaka ga koronda (Ashitaka Fell Down)
[Time 2:06:00]
1996/07/06: Miyazaki does not like some of the detailed movements in his Genga [for the scene in which Ashitaka falls down outside Moro's cave]. He tries to recall his childhood experience of falling down awkwardly. He is muttering, "Hen da, hen da, hen da" ("Awkward, awkward, awkward"). Suddenly, Miyazaki realizes the weakness of his Genga. "Oh, I kept Ashitaka's face in the drawing, because he is a main character. That is wrong! When he falls down awkwardly, his face should be towards the ground, not towards the audience. Oh, such a basic mistake! What a fool I am! I am committed to drawing him awkwardly falling down."
Now, he starts many corrections and changes in his drawings: He changes the angle of Ashitaka's hand, when he touches the ground to try to control his body movements; he corrects Ashitaka's twisting movements of his body to prevent himself falling sidelong; he corrects the scenery of the ground where Ashitaka is going to fall; and he combines two actions, in which Ashitaka falls down and gets up. Miyazaki eventually spends a half-day of work on this scene.
---

Anxiety - Miyazaki works on E-konte
[Time 2:10:30]

---
Miyazaki says, "I am creating the animation by slowly moving as closely as possible in the direction in which I intend to go. Initially, I usually do not know the outcome of my creation. On Sunday, I worked on my E-konte at home, but I could not understand what I was doing. I was so excited and anxious about drawing the E-konte. You know, who defines the movie? An animation movie itself usually wants to become an animation movie, and therefore, the animation makes me become its faithful slave and drives me to work hard to try to prove its definition. I become a part of the movie. My definition of representation is not of telling or informing about things or stories, that I have already known. Representation is creating something new from the restless struggle to analyze and understand ambiguous things or confusing phenomena. It is a result of a fight with myself."
---

Anxiety - Suzuki ponders the looming deadline
[Time 2:12:20]

---
Producer Suzuki says, "At this moment, I am not so sure whether we can complete this movie before the deadline. I also worry about the total length of the movie. It may end up becoming a three-hour movie, instead of the two-hour movie which I intend to make. The movie runs for twenty minutes before San, a main character, appears on the screen for the first time. Do you know what does this means to me? It means that this movie will run longer than I want it to. However, Miya-san said to me that he is skillful enough to make a two-hour movie despite my prediction."
Well, we have to watch what is to come.
---
End of Part One
---
Summary by Mikiyo HATTORI and Tom WILKES; HTML design by Marc GREGORY
Disclaimer:
©1997 Nibariki, TNDG, and/or other appropriate copyright holders.
Translated and summarized without permission for personal entertainment purposes only. The quotations contained in this summary are not, by any means, accurate word for word translations, and the translators are solely responsible for any mistranslation or misunderstanding.
---

This page is brought to you by Team Ghiblink.