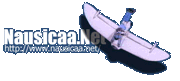 ---
|| Main | Mailing List | Films | Search | Ghiblink | Feedback ||


| | |
| --- | --- |
| | Availability: Tenkuu no Shiro Rapyuta |
This page contains links to pages listing various merchandise for Tenkuu no Shiro Rapyuta (Laputa: Castle in the Sky).
Laputa was dubbed into English in the 1980s by Tokuma (not by Streamline as is often reported). It was shown at a few art house theaters in the US and has also been shown at least twice on TV in the United Kingdom. It is said to be a decent dub, and is included in the Ghibli ga Ippai LD box set with English available on the right analog track.
Disney redubbed it for their global release and renamed it Castle in the Sky, possibly because "Laputa" is a rather offensive word in Spanish. Disney considered releasing Castle in theaters--not just on video--but eventually went with a direct DVD/VHS release. Joe Hisaishi redid the musical score to make it more suitable for theatrical release and the American market. He started recording new pieces in March 1999 and wrapped up on May 10 the same year. The trailer on the English Kiki's Delivery Service video said Castle was coming out in 1999, Hisaishi stated on his official web site that he was told by Disney that it was coming out in year 2000. The film made it to the US market on April 15, 2003.
The English voice cast includes: Anna Paquin as Sheeta, James Van Der Beek as Pazu (now called "Patzu"), Mark Hamill as Muska, and Cloris Leachman as Dola. Mandy Patinkin and Michael McShane are also in the voice cast.
---
Please choose from the following:
Return to Laputa main page

---

This page is brought to you by Team Ghiblink.