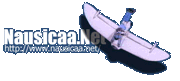 ---
|| Main | Mailing List | Films | Search | Ghiblink | Feedback ||




Hauru no Ugoku Shiro
(Howl's Moving Castle)
Studio Ghibli Diary Translation (Page 23)
Translator's notes in yellow.
6/23/04 (Weds.)
The production team has two cars for its own use. The air conditioner for one of these has recently not been working well, but since we have been busy, we have endured it. However, since we haven't been as busy as usual lately, we had some time and took it in to have the air conditioner gas checked out. But, when we had it checked, it turned out that the problem was not the gas, but the filter. It was completely black and looked horrible. When we had the filter replaced at the dealer, a new problem appeared. There were hardly any grooves left on either of the front tires. We hurriedly had them replaced. We regretted not having the car checked while we were wrapped up in our work. Everyone, it's important to keep up daily maintenance on your cars.
6/24/03 (Thurs.)
The rush check was held today on account of production contingencies. With this, we passed the thirty-cuts-remaining mark. Two cuts of in-between animation remain.
6/25/04 (Fri.)
In-between animation is complete. Of course, there is still in-between animation checking to do, but for the time being we've passed a milestone.
6/26/05 (Sat.)
In-between animation checking was completed without incident. With that, animation work is complete. Ordinarily, this would be a day off at Ghibli, but the in-between animation checkers and finishers came to work to finish up the last stretch. Thanks for your hard work.
6/28/04 (Mon.)
Effects recording began yesterday. It was completed today without incident.
6/29/04 (Tues.)
Today orchestra recording began, which will last for two days. The power of an orchestra heard live really is completely different. Also, I feel like we benefited a little from seeing scenes from the movie projected [during the recording session].
6/30/04 (Weds.)
Orchestra recording was completed without incident. They used all the time available, and it seems they were able to record music they could be satisfied with.
7/1/04 (Thurs.)
Mixing started on the orchestra recording.
Representatives from XX Production showed up this morning for a planning meeting.
Modification is in progress of the Fiat 500 to be exhibited at the Japanese Animation Exhibition beginning on the 15th of this month [at the Museum of Contemporary Art Tokyo]. For the moment, here is a photo of the Fiat ([Caption] Director Ohtsuka in the driver's seat), with exterior and interior remodeling complete.
---

This page is brought to you by Team Ghiblink.