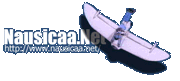 ---
|| Main | Mailing List | Films | Search | Ghiblink | Feedback ||




Hauru no Ugoku Shiro
(Howl's Moving Castle)
Studio Ghibli Diary Translation (Page 22)
Translator's notes in yellow.
6/8/04 (Tues.)
There is only one cut yet to come from animation direction. Finally, animation direction work is complete. (For procedural reasons, we haven't yet received [the last cut], but the actual work is done.) With that, we have crossed another mountain. Thanks for your hard work, animation directors. Next comes the rush checking.
6/9/04 (Weds.)
As I wrote yesterday, animation direction is complete. Now, the last cut is all that remains with the production team. Once that cut goes out, all that is left is to wait for in-between animation. The end has really, truly come into view. We ask for everyone's help with the rest of the work.
6/10/04 (Thurs.)
Today, the last cut went to in-between animation. There's one less piece of data to be checked daily by the production team. Up until now, we have been grappling with nine notebooks, but now we look at them with nostalgia. The checks which took nearly half an hour during the peak time now only take a few minutes to complete. It's like a dream.
6/11/04 (Fri.)
The regular rush check. There are now fewer than 100 cuts left to be checked. How many more sessions will there be? That's the next thing for the production team to plan out.
6/12/04 (Sat.)
Cuts for which photography has been completed have been collecting in the photography room, so they were moved to the production area. Since the storeroom was already full when the last batch arrived, we secured an emergency area and set up more shelves, but now they're full as well, so we hurriedly bought and set up some new shelves and are safe for the time being. Looking at the number of cuts we have left, it looks like we may just barely have enough room.
6/14/04 (Sun.)
In order to speed up the work a little, the in-between animation work was divided up, but there's a limit to what can be done. Gradually, in-between animators are starting to complete their work.
6/15/04 (Tues.)
There are just under twenty cuts of in-between animation remaining. Because of difficult content, the last person doing animation direction has not been able to complete his work smoothly. Nevertheless, the in-between animators have been working into the night for several days running. Keep up the hard work!
6/16/04 (Weds.)
There are now fewer than twenty cuts which remain to go into finishing. In-between animation checkers are now waiting for work, and we've really started to feel like it's the final countdown.
6/17/04 (Thurs.)
Voice recording was completed today. Now work on music, etc. begins. Work was completed without any major problems. That was a relief.
6/18/04 (Fri.)
The regular rush check. There is some retake work to be done, but today the number of cuts remaining to be checked passed fifty. I say it every day, but that was a relief.
6/19/04 (Sat.)
There was a sudden request from Miyazaki to add to the background paintings. We contacted Takeshige-san, who was standing by at home, and hurriedly had him come in. Well, after all, nobody knows what may happen before we are finished.
6/21/04 (Mon.)
There was a typhoon today. Now, of all times, there was a typhoon. There are ten cuts of in-between animation remaining. Since there was no work for the production team to pick up and they were just waiting for material, they were secretly relieved. This was because with the wind and rain being this strong, there's a possibility that the in-between animation could get wet. We were really lucky.
6/22/04 (Tues.)
There was a delivery of cherries from an acquaintance of Miyazaki's. However, since [most of] the animators have gone on leave, the few remaining staff were able to have large quantities of them. They were really delicious.
---

This page is brought to you by Team Ghiblink.