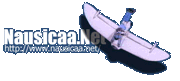 ---
|| Main | Mailing List | Films | Search | Ghiblink | Feedback ||


Gedo Senki
(Tales from Earthsea)
Goro Miyazaki's Blog Translation (Page 99)
7th June 2006
Number 99 - The Music Staff on an All Night High!
From yesterday to today, we mixed down[1] the audio tracks for the sound track.
What we did the other day (see entry no. 97) was mastering a two channel mix for the Soundtrack Album. What we are doing this time is a 6.1 channel mixdown for the movie.
Normally, the mixdown for the audio happens first, but this time, to do with the release date of the album, the production process went the other way round. For that reason, I think that musically we went into mixing down with a high degree of completion.
For the other day's mix, everyone who happened to be present was apparently on a high from working all night.
Dozing off, having a nightmare and suddenly screaming out loud - apparently there was some fairly interesting stuff happening. But unfortunately, or perhaps fortunately, I was not involved, so I was unable to witness any of it.
The completion of the music was something amazing, it felt exactly like Tamiya Terashima had put everything he had into it. The Soundtrack Album fills the entire volume of the CD. It is an epic work of 21 tracks, totalling 73 minutes and 52 seconds.
The mixdown is really crucial though, and all of the music staff, starting with Mr. Terashima, have been asking each other "another all-nighter tonight?". That's what it's like.
---
Translator's Notes
[1]: Reducing multiple audio tracks to a single stereo track using a multi track recorder (MTR). [Essentially, putting the separate tracks you've been working on together ready to burn to a master CD.]
---

This page is brought to you by Team Ghiblink.