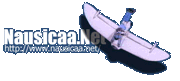 ---
|| Main | Mailing List | Films | Search | Ghiblink | Feedback ||


Gedo Senki
(Tales from Earthsea)
Goro Miyazaki's Blog Translation (Page 100)
8th June 2006
Number 100 - Finding Odd Moments of Leisure in One's Busy Life[1]
Mixing down the soundtrack has been safely completed.
I say that, but at the present time of 8:30 p.m., the audio staff starting with Mr. Terashima, are continuing with the process of making fine corrections...
Today was the first time in a long time that I saw a movie (In the Ghibli screening room). It was a documentary called "OVERCOMING"[2]. The distributor, Pony Canyon, held a preview for Ghibli Staff members[3].
The film records the efforts of the professional cycling team Team CSC as they take on the world's premier cycling road race: the Tour de France. Through the race, the human dimensions of the team director, cyclists and team staff, are depicted in painstaking detail. It was a pretty interesting film.
The passion in pursuit of an ideal and the bitter struggles, of course of the cyclists, but more particularly those of the team director Bjarne Riis, awoke a deep sympathy in me: Directors have it tough in any world. And it straightened me up that I must be ambitious, setting my sights on higher goals.
By the way, this film will be released on June 17th. People who like cycling should definitely see it. Those who aren't will find the structure of cycle racing a little difficult to understand, but will still find it interesting I think.
---
Translator's Notes
[1]: The original japanese for this quirky heading is the pithy phrase 'bou-chuu hima-ari' (忙 中 閑 あ り) "Leisure in the Middle of Being Busy".
[2]: Documentary follows Team CSC and its riders through the 2004 Tour de France.
[3]: Who you will remember from entry no. 27 are all cycle nuts.
---

This page is brought to you by Team Ghiblink.