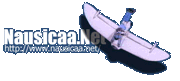 ---
|| Main | Mailing List | Films | Search | Ghiblink | Feedback ||


Gedo Senki
(Tales from Earthsea)
Goro Miyazaki's Blog Translation (Page 32)
7th February 2006
Number 32 - Ms. Le Guin's son
A few days ago, Theo, the son of Ms. Le Guin, the author of the original work that "Tales from Earthsea" is based on, came to visit Studio Ghibli.
Theo was the representative for Ms. Le Guin's interests, so we'd had a lot to do with him.
We got Theo to take a look at the approximately 3 minute trailer that is to screen on February 25th.
His impressions were:
"The images are really beautiful. The song too, it's not like something from Hollywood, but felt really like Ghibli."
It made a really good impression on him.
Of course, our number one goal is to delight all the customers who come to the cinema.
On the other hand, when there is an original work, like on this occasion, whether or not the original author likes what we've created is also something to worry about.
I wrote this before, but the reason I'm here directing this animated film, is because of the attraction of original "Earthsea" series.
That is why I'm careful to preserve the important things that Ms. Le Guin tried to depict in the Earthsea series.
If I treat those carelessly I wind up with nothing.
But obviously the mediums of print and film are different, so I can't just turn the books straight into a movie.
If I made a film that exactly followed the text of the books, I wouldn't be able to depict the real heart of the Earthsea stories.
How do I go about turning the important parts of the original Earthsea works into images?
That is the problem that has been in my head all the time from the moment I started making this movie until now.
This was the first time I had seen Theo in a long while.
It made me resolve afresh to make something that would not bring shame to the name of Earthsea.
---

This page is brought to you by Team Ghiblink.