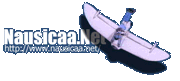 ---
|| Main | Mailing List | Films | Search | Ghiblink | Feedback ||


Gedo Senki
(Tales from Earthsea)
Goro Miyazaki's Blog Translation (Supplementary 6)
8th August 2006
Supplementary 6 - A New Day is Here and I Collapse on the Ground
It's the dawn of a new day after a day of tension. Today I have the whole day free.
We all got into a car and headed for the beach. However, the beach was cold.
True the sky was so clear it seemed transparent.
The air was dry, the sunlight was strong, but the wind was cold, and also the sea water was cold too.
There was no way we could swim.
We had light clothes on, so Mr. Suzuki and I and Mr. Alpert[1], hurriedly bought sweatshirts.
So there we were at the quiet beach Theo had recommended, taking a midday nap and looking for all the world to anyone who came along as if we had passed out there.
The next place we headed to was Oregon, to an old town named Astoria.
We wandered around the small town, which looked exactly like a movie set, then had an early dinner and returned to Portland.
In the end I, Mr. Suzuki and Ms. Takeda fell sound asleep in the car going and coming back. You had to wonder what on earth we had been doing all day!
Mr. Suzuki is very shortly turning 60, he's not young. For the movie Tales from Earthsea he was involved in everything from production to advertising and then spent one month on the nationwide campaign. I think it had to be hard on his body.
But regardless of that, he's got to be more energetic than me.
I am completely worn out.
I feel like I have aged by 10 years, but Mr. Suzuki seems like he is 10 years younger.
Scary guy.
Tomorrow we finally go home.
---
Translator's Notes
[1]: Steve Alpert, head of Ghibli's overseas business division
---
---

This page is brought to you by Team Ghiblink.